Share this with a friend!
The start of a new year is always a great time to look ahead and establish goals for yourself, your home, your business/career and your finances. Usually, your goals are reflective of the year(s) past and what changes are necessary to move forward in a healthy direction.
Going back to the basics and being more involved with my client's projects is what is important for me in 2023. It was a goal that slowly came to fruition beginning in 2018 – spending my time working ON my business vs. IN my business. A lot has happened over that 4 year timespan to this day in 2022. In that time, everything has changed – – my business, my family, and my mindset. It is time my goals change too!
YEAR 2022 IN REVIEW
I like to take the time to document my reflections at the end of every year and create new goals and plans for the year ahead. I share them with you, our reader, as it keeps us transparent and accountable. After all, if I'm going to put it out there for the world to see, I better make it happen, right?! 
2022 was a year FULL of positive change and growth, for me and for Organized Haven. Although there were unmet goals, these top 10 accomplishments are things I'm incredibly proud of: 
Earned the prestigious Certified Professional Organizer® designation from the Board of Certification for Professional Organizers

Launched

Haven Happenings

, our company newsletter, for inspiration and resources to live organized

Added a cargo trailer and dump trailer to our fleet of moving and downsizing vehicles

Hosted 7 webinars on downsizing, moving and organizing

Finalist in the Top 3 of Best Moving Companies of 2022 by Best of Central Florida! 

Joined the

Institute for Challenging Disorganization

for advanced education on chronic disorganization and hoarding

Presented a conference session to fellow Senior Move Managers® at the 2022

NASMM

Conference in Philadelphia, PA

2022 recipient of the

MaxSold

Environmental Sustainability Award, managing 21 MaxSold online auctions in 2022 and 12 in 2021

Published 19 blog posts

Won Best of Florida Professional Organizers 2022 (we just found this out with one day left of 2022!)
It is crazy how fast a year flies by. It feels like so little time ago that I was writing last year's new year blog post: 2022: A New Year Through a New Lens. It is rewarding to look back over a year's accomplishments and it was fun to look back on that blog post, as well as the prior year's: Goodbye 2020, Hello 2021!
For me, it's humbling, because I just have to say how blessed I am to have a dedicated team that takes great care of our clients and has great pride in their work. If it weren't for my client and project management team, I wouldn't have had all of this time to focus on the business, marketing and educational side of our company. 
I encourage you to really think about all that happened in 2022. Write down your successes. Whether it is 1 big thing or 10 smaller things, celebrate your wins and don't worry so much about the things you might not have been able to do… Do yet, that is. 
Take the time to thank the people who helped you meet those goals, whether it is your employees, your employer, your spouse, your kids or someone else. If someone gave you an opportunity or helped you get to where you are, let them know how much it means to you!
My people – –
My husband, Danny, for loving this business as much as I do! He is the most talented Certified Senior Move Manager® I know and I wouldn't want to operate our business without him! 
Our Operations Manager, Dee, for helping us create the Organized Haven we are today! She shares our mission and vision with such enthusiasm and there is no one else who treats this business as if it were her own, like she does. 
Our kids, little Danny and Kinsley, for sharing me with Organized Haven, for the frequent interruptions (I know I'll miss these days,) and for dealing with my crazy when they leave me messes all over the house! 
My friend, Karlie Holliday, of helloCreate, for her amazing ability to create the graphics that tell our stories and highlight our services! She is my 'Match Made in Haven' and the best Social Media Manager & Creative Designer there is!
Our current team and team members' past for working hard to carry out our vision, our family for embracing this creation of ours, our community for believing in us and referring our services, our industry partners and colleagues for supporting us and for the friendships we've built with all!
SOMETIMES PLANS REQUIRE CHANGE
While it was clearly a successful year, we did face some challenges. With several changes in staff and a change in client management software, some of my 2022 working ON the business goals had to be postponed. Some projects were even outright nixed. And you know what? It's OKAY!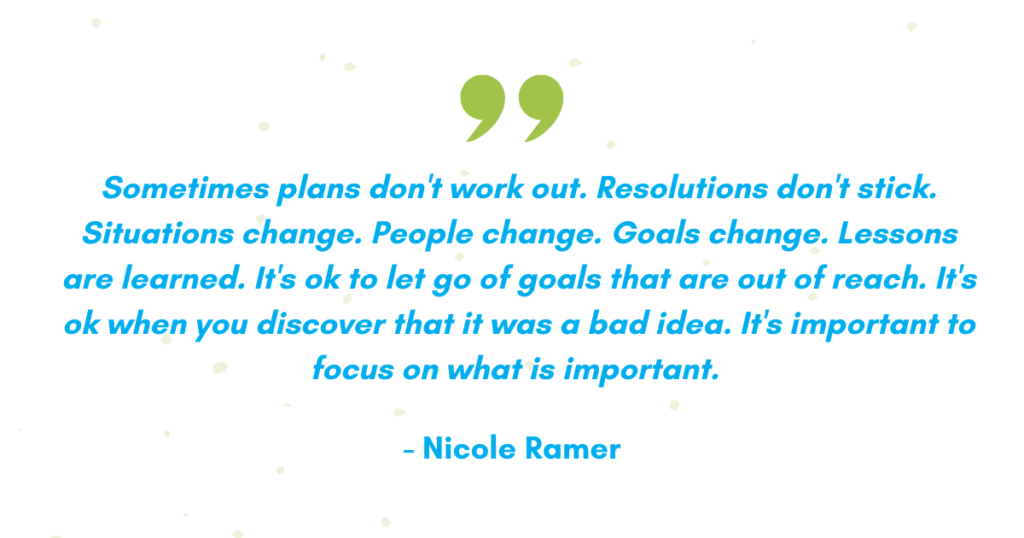 Sometimes plans don't work out. Resolutions don't stick. Situations change. People change. Goals change. Lessons are learned. IT'S OKAY to let go of goals that are out of reach. It's ok when you discover that it was a bad idea. It's important to focus on what is important. 
Sometimes what is important today becomes not so important tomorrow. A failure to plan might be a plan to fail, but it is also true that keeping the status quo and continuing to do what you've always done can also result in failure.
Just like I tell my clients to be okay with letting go of things they've collected, it is okay to change your plans or let go of them altogether. 
FOCUSING ON WHAT'S IMPORTANT FOR 2023
As a business owner, I know first-hand how challenging it is to work both IN your business AND ON your business. In a service-related profession, it is especially difficult to balance both successfully. While I have been advancing down the path of working less IN my business over the last 4 years, I am finding that I have missed working directly with my clients and my team. I miss the direct sharing of solutions and resources and having the chance to make an impact on the success of our client's projects. This is what it's all about! So I'm going back to basics!
Because I want to focus on what's important, here's where you'll find me in 2023:
Working in-person with our team and clients on most downsizing, organizing and moving projects

Sharing my training and knowledge to continue developing the skills of all team members with the advanced training and education I have received from

NAPO

,

NASMM

and other industry-related associations

Speaking in-person to groups of seniors and busy professionals who are in need of downsizing and organizing tips and resources

Helping our clients tell their stories, learn the value of their collections, organize their homes/moves/paper/photos and inventory their most valuable assets and estate items

Delegating as many tasks as possible so that I may move from behind the desk to provide and receive inspiration for our mission
I'm very much looking forward to being PRESENT full-time in the field again with my husband and our team!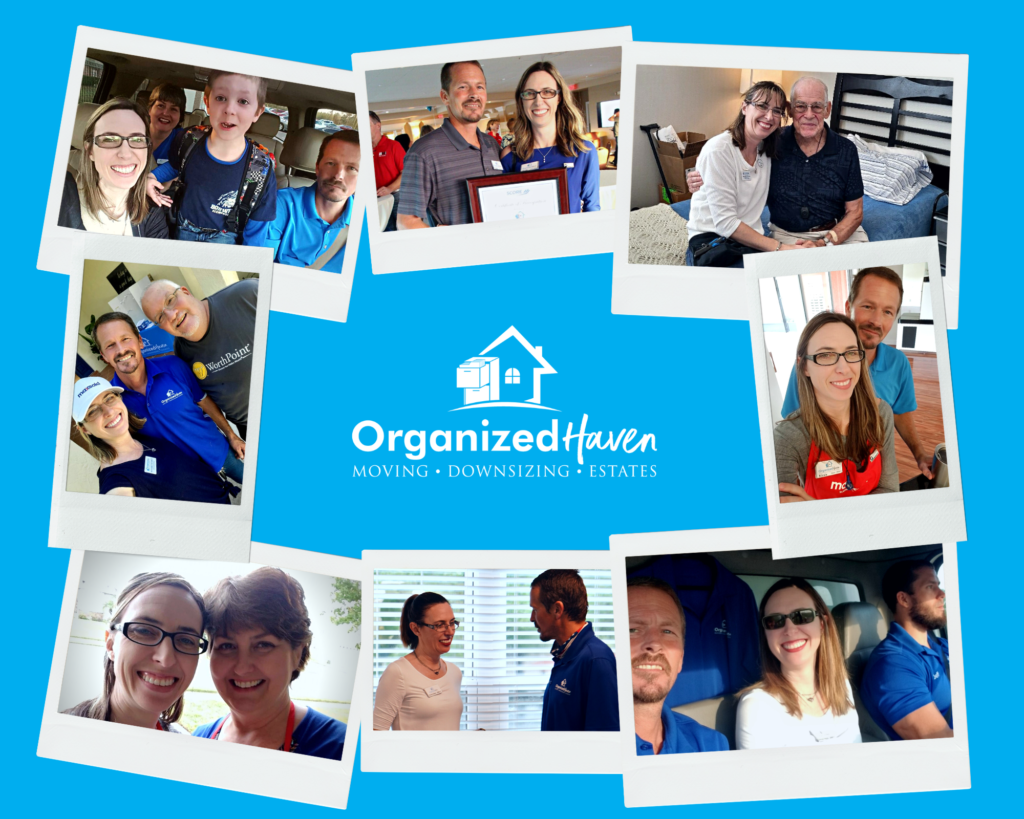 What is important for you to focus on in 2023? Let me know in the comments section! I'd be happy to be your accountability partner, or even your sounding board if you have any hesitation as to whether it is a realistic goal. 
Do any of your goals include getting organized or beginning the process of downsizing? If you'd like a quick start to feel a little lighter to end/begin the year, here is a great post to read next: https://organizedhaven.com/10-things-to-downsize-in-10-minutes/
PIN IT to remember it!
Here's to welcoming 2023!
💙, 
Nicole 
By: Nicole Ramer, CPO®, SMM~C®
(Certified Professional Organizer® & Certified Senior Move Manager®)
Share this with a friend!