Share this with a friend!
Organized Haven, a NASMM A+ Accredited Moving, Downsizing and Estate Clearing company, is in search of new Professional Organizers, Senior Move Managers® and Relocation Specialists to join our growing team!
Sorting | Space Planning | Packing | Moving | Unpacking | Organizing | Picture Hanging | Estate Sales
Are you highly organized and looking for a rewarding job that coincides with your passion and skills?
Have you moved many times and know how to pack and unpack efficiently?
Do you love to edit your belongings to fit your space and the life you are currently living?
Here is some more detail about the great work our organizers, move managers and relocation specialists do for our seniors and their families in Central Florida:
SORTING
Our team of professionals sort a lifetime of accumulations and household goods for organizing, moving and downsizing projects.
We perform this service one-on-one with our clients or as a team while teaching our clients how to live more with less.
Decluttering is key at this stage, as there are typically expired foods, medications and other outdated items found in drawers, cabinets, and cupboards throughout the average home.
Did you know there are 300,000 individual items in the average American home? 😮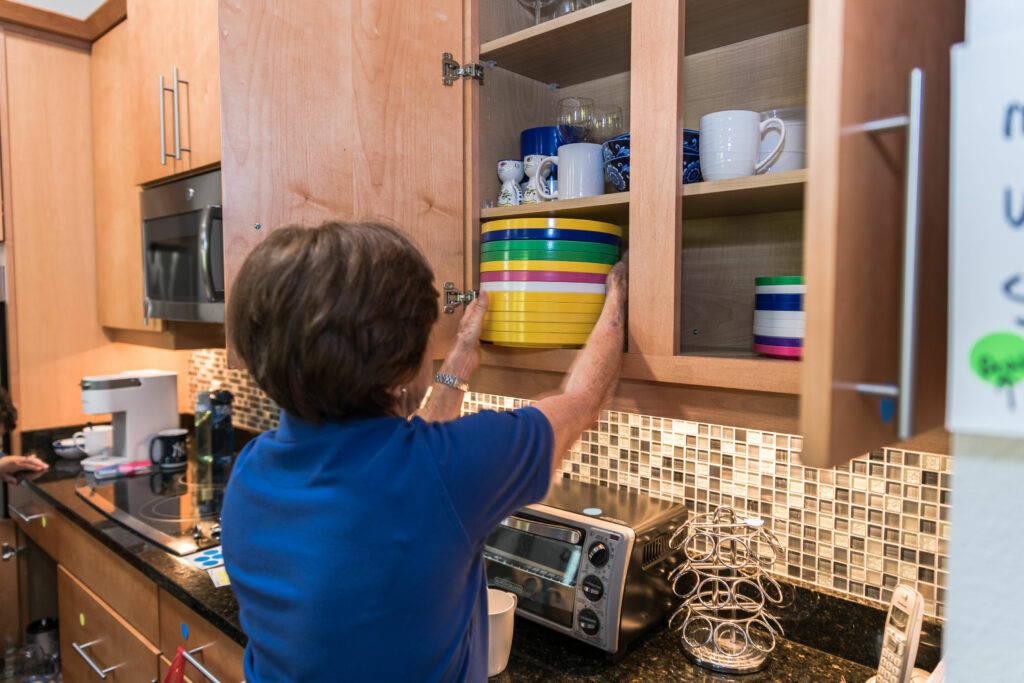 SPACE PLANNING
All of our senior and specialty moves and downsizing projects include 3D space planning support and guidance.
Our Senior Move Managers® measure our clients' furniture "wish list" items and the floor plan of their new space, making a proper plan for how it will look and function best for them.
This is the single most important step of the downsizing process!
Rightsizing is what it is all about!
PACKING
Our Professional Organizers, Senior Move Managers® and Relocation Specialists provide professional packing services to most of the clients who hire Organized Haven for their move.
We label our boxes with detail orientation and we pack with the unpack in mind!
It is common for people to pack up their entire house for a move to a bigger or similar-size home – the stuff will eventually get unpacked and put away in the most make-sense place.
(or not – we are often hired to unpack boxes that have sat for years without being touched – in homes and storage units)
When you are facing a significant downsize, however, that common practice is not going to work this time around!
We focus on the new space and its' abilities and limitations, making a plan for where its all going to go before it gets packed!
Because there's nothing worse than having a sea of boxes left to unpack with nowhere left to put it all!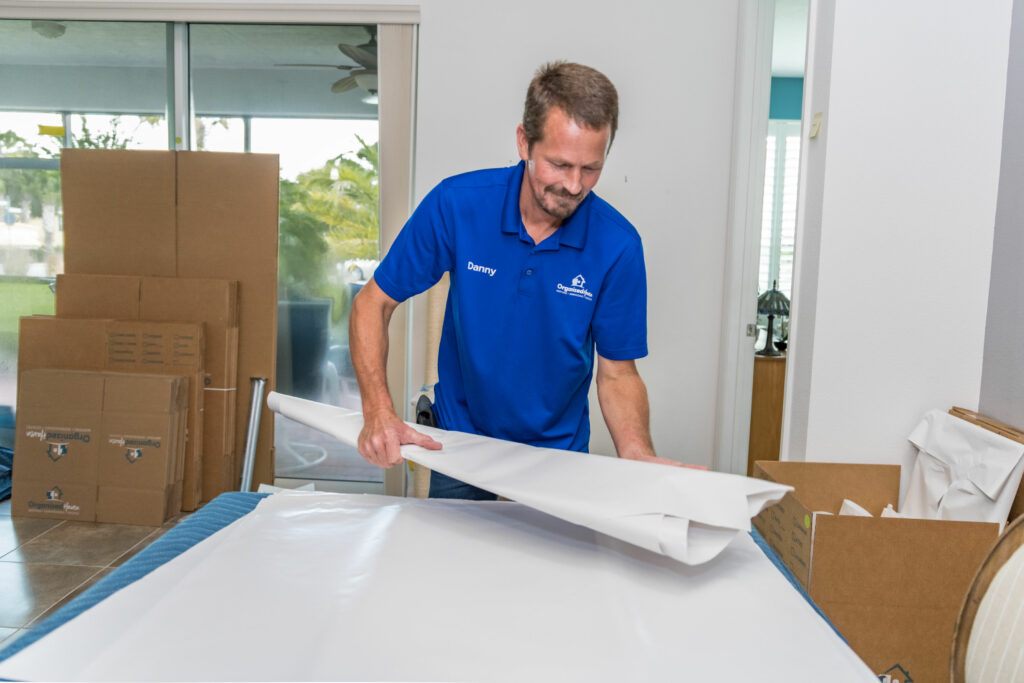 MOVING
As a fully-licensed intrastate moving company in Florida, our NASMM A+ Accredited Senior Move Management® company provides moving services in-house.
"Organized Haven is one of about 1% – 3% of the National Association of Senior & Specialty Move Managers member companies who provide this one-stop-shop benefit to their clients", says NASMM's Co-Executive Director, Jennifer Pickett.
(a survey is being done later this year to determine the actual percentage of SMM companies who've added moving services and vice versa – moving companies who've added SMM services, becoming members of NASMM)
Our Relocation Specialists (Movers) and Certified Senior Move Managers® have a collective 30+ years experience in the moving and move management industry!
We may be small, but we are strong and we are mighty!
Learn more about our work as Senior Move Managers® here: 7 Reasons to Hire a Senior Move Manager®.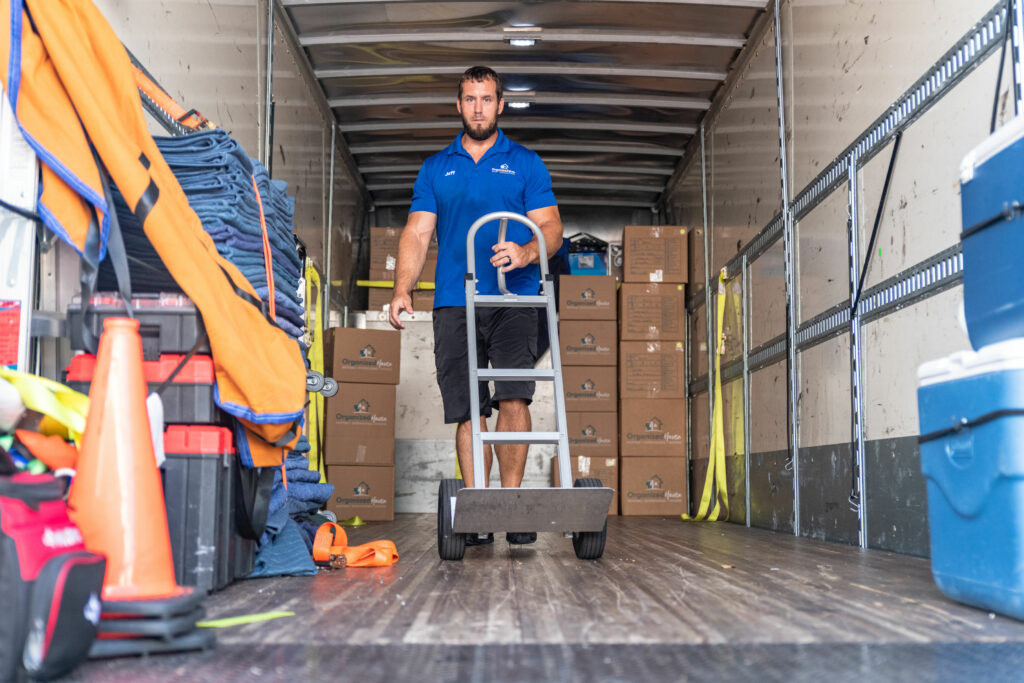 UNPACKING
Many of our clients take advantage of the full Organized Haven experience, hiring us to unpack and set up their new homes on move day!
It is the most rewarding experience to completely organize their new space and see the reaction on their face as they walk through the door and are welcomed home by our team!
We are looking for Professional Organizers who are able to successfully envision the needs of our clients when unpacking and setting up their new homes.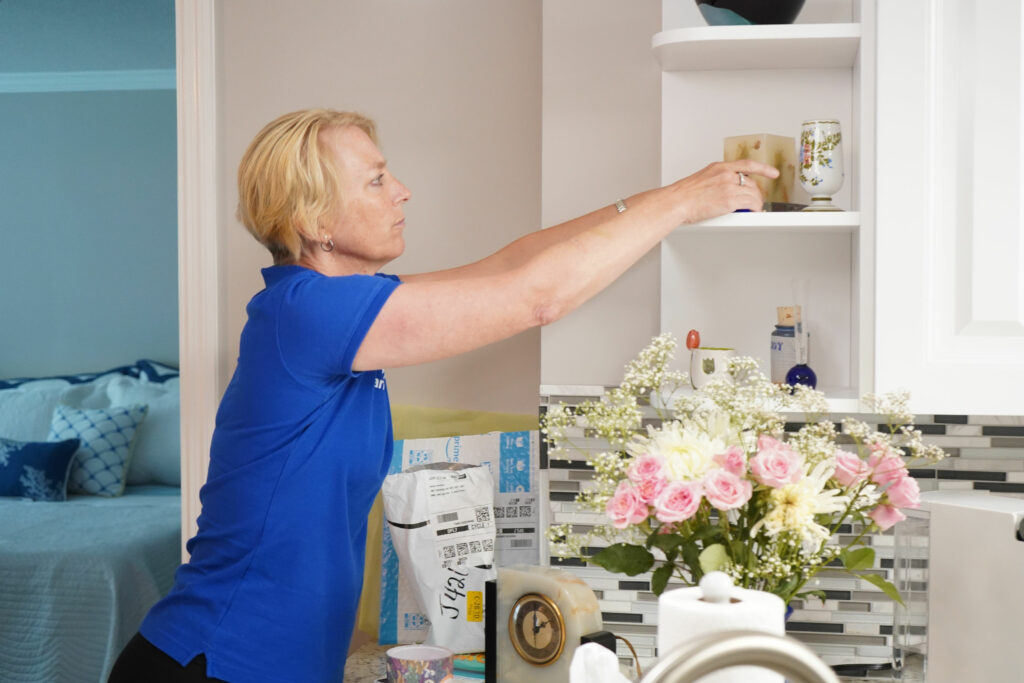 ORGANIZING
Seniors and busy professionals hire our team with great trust that we can help them let go of the things they no longer need in their lives or their space, both physically and emotionally.
And, they are looking for ideas and solutions that will help them to not only get organized, but to maintain their organization.
Our Professional Organizers receive on-the-job training by Polk County's only Certified Professional Organizer®, Nicole Ramer, with specialty training in Residential Organizing, Life Transitions, Workplace Productivity, Household Management, Brain-Based Conditions and Team Productivity.
Professional Organizers on the team also receive on-demand training by the National Association of Productivity and Organizing Professionals (NAPO.)
Learn more about our work as Professional Organizers here: 6 Reasons to Hire a Professional Organizer.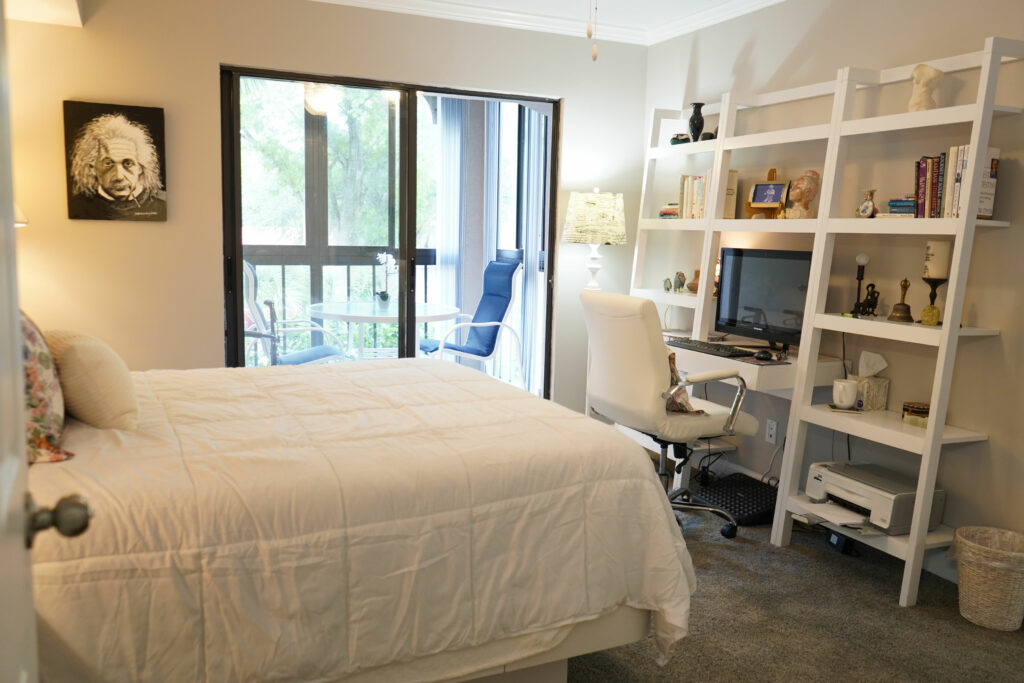 PICTURE HANGING
No home feels complete without getting the art on the walls!
Whether this full resettle happens on move day, the day after or weeks after the move, our team has both handymen and women on staff to hang the pictures, TV and other wall-mounted items.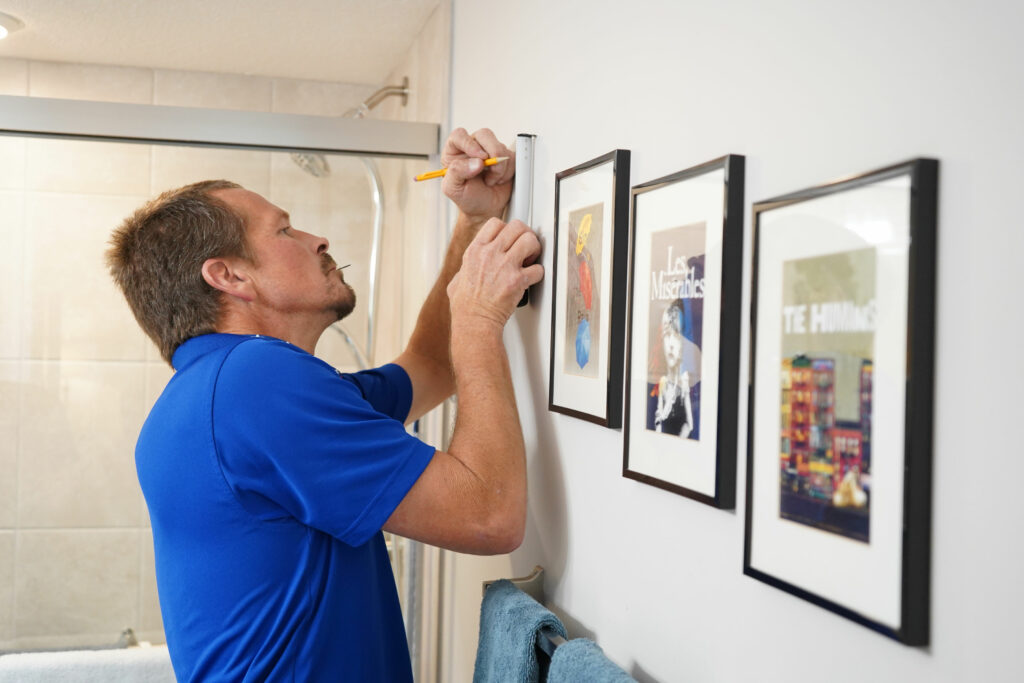 ESTATE SALES
The Organized Haven team also provides estate sale services in-house to many of our clients who are downsizing and moving.
Different than a traditional estate sale company, we establish estate auction lots for online cataloging, clearing an average of 98% of our clients' downsized goods to the highest bidder per lot.
The local members of our community compete against each other with mid – high-value items of interest from the comfort of their own homes.
This drives the value UP over a 7 – 12 day period, vs DOWN in a 1 – 2 day on-site estate sale. Check out our past sales here: Organized Haven – Online Auctions
Our team packs up all the lots for the winning bidders and has them ready to safely and securely leave the home at a pre-arranged, organized pickup day.
Other home clearing activities include sending low-value donations to not-for-profit donation centers and hauling away broken, dated items to the local landfill or recycling area.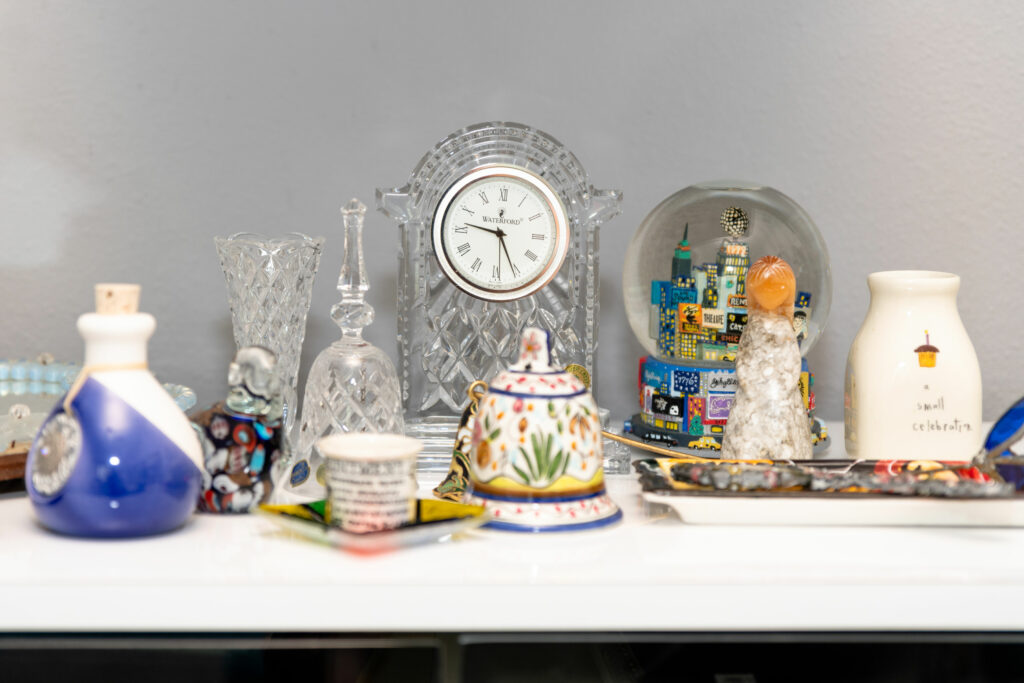 MINIMUM QUALIFICATIONS:
High-school diploma or GED
Ten+ years of professional working experience
Experience in packing and moving preferred, but not required as on-the-job training is provided
Pass background check & drug screening
Punctual, reliable, trustworthy, high attention to detail and accuracy
Professional and courteous – excellent client service attitude (friendly, kind, understanding, respectful)
Clear written and verbal communication skills
Experience and love for serving the senior demographic
Ability to read and understand Organized Haven policies and procedures
Ability to understand and follow verbal instructions
Ability to work in a fast-paced environment and remain calm in stressful situations
Ability to safely lift and carry 30 lbs. without assistance (or 50 if hired as a Relocation Specialist)
Ability to stand and move about for long periods of time (physically demanding work)
WHAT WE OFFER OUR EMPLOYEES (NO INDEPENDENT CONTRACTOR OPPORTUNITIES):
On-site and off-site training
Competitive pay commensurate with skills, qualifications and professional working experience
Annual reviews with opportunities for further education and pay increases
Educational opportunities with the National Association of Productivity and Organizing Professionals (NAPO), leading to the achievement of organizing specialist certificate(s) in:

Residential Organizing
Life Transitions
Workplace Productivity
Household Management
Brain-Based Conditions
Team Productivity

Educational opportunities with the National Association of Senior & Specialty Move Managers (NASMM)
Commission on qualified client and team member referrals
THE IDEAL CANDIDATE FOR THIS POSITION MIGHT HAVE A BACKGROUND IN:
Moving
Teaching
Project Management
Event Planning
Real Estate
Professional Organizing
Move Management
Estate Sales
Interior Design
Senior Living
Senior Care
Semi-retired / retired stay-at-home-moms are also urged to apply!
Whether you've been running a household or running in the corporate world, we can assure you that you'll love the work we do and the people we do it for!
Even the cats are happy when we're done!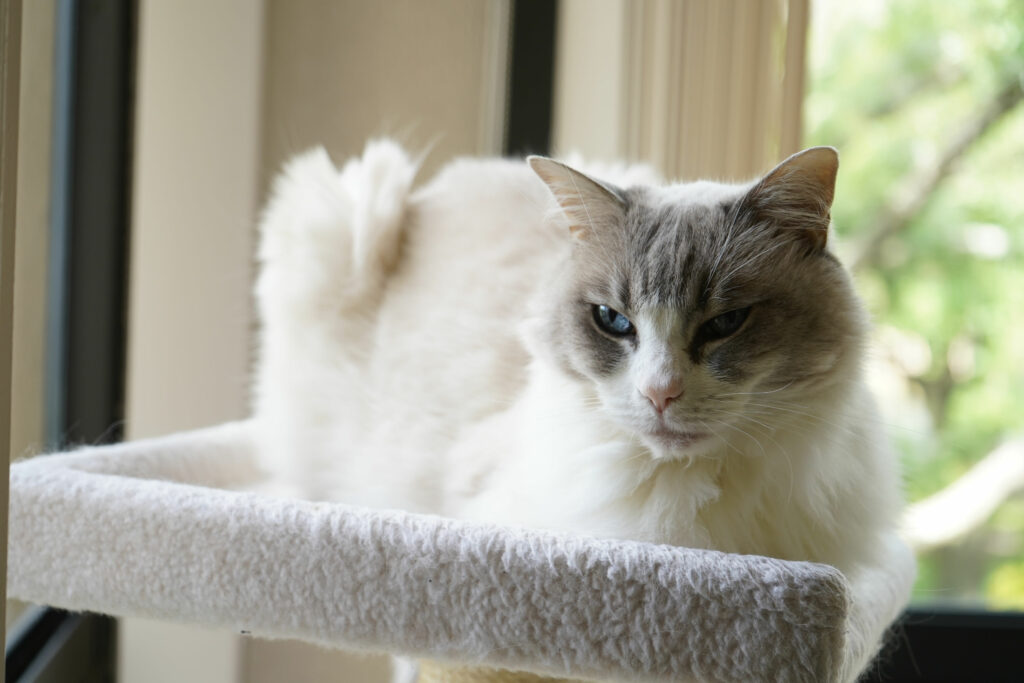 OUR CORE VALUES:
HONESTY | INTEGRITY | TRUSTWORTHINESS | COMPASSION | EMPATHY | PROFESSIONALISM | TRANSPARENCY | SIMPLICITY | RELIABILITY | COMMUNICATION
Would you like to join us on our mission to effectively manage and organize our client's major life transitions in downsizing, moving and estate clearing? See our Careers page to request a meeting / interview with me!
Love what you do!
💙,
Nicole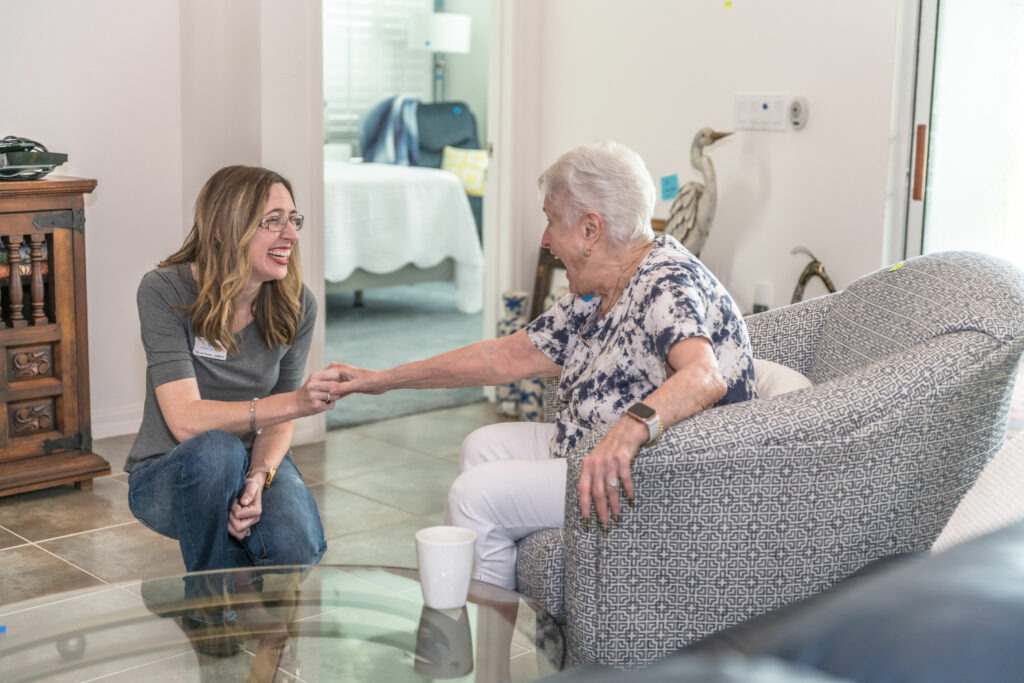 By: Nicole Ramer, CPO®, SMM~C®
(Certified Professional Organizer® & Certified Senior Move Manager®)
© 2023 Organized Haven. All rights reserved.
Share this with a friend!