Share this with a friend!
Moving and downsizing as a senior who has collected a lifetime of things is not for the faint of heart. It's also not a job best supported by a traditional moving company. Here are 7 Reasons to Hire a Senior Move Manager® when making such a move.
7 REASONS TO HIRE A SENIOR MOVE MANAGER®
A SENIOR MOVE MANAGER® IS A TRAINED AND EXPERIENCED MEMBER OF THE NATIONAL ASSOCIATION OF SENIOR & SPECIALTY MOVE MANAGERS®
Senior Move Managers® specialize in helping older adults downsize and transition to independent and assisted living communities, other housing, or aging-in-place. They relieve the burden and the hassles of moving when there are years of memories and possessions to sort through. 
As members of the National Association of Senior & Specialty Move Managers (NASMM), they are required to have general liability insurance, pass courses in ethics and safety, and have a signed contract in advance of the move. 
SENIOR MOVE MANAGERS® UNDERSTAND HOW TO WORK WITH THOSE WHO ARE AGING AND EXPERIENCING COGNITIVE DECLINE
The difficulties of moving are magnified when the person moving has dementia or even normal memory loss. A Senior Move Manager® has advanced training in helping those with dementia and cognitive decline, memory and forgettery, communication matters, and packing and unpacking. 
When downsizing a lifetime, a person with memory loss has a great need for support weeks or even months before their move. Choosing a Senior Move Manager® ensures this person has someone by their side that will be able to work with the challenges they may be facing:
Confusion
The inability to problem-solve
The inability to complete multi-step activities such as preparing a meal or balancing a checkbook
Personality changes or unusual behaviors
Remembering recent events or conversations
Plan, start, or organize tasks
Find the right words or names for everyday things, such as a clock or a stove
Comprehend or follow even simple instructions
Keep track of the time and where they are
The ability to understand how to communicate with each other, Senior Move Manager® and client & families, is imperative to the success of a transition like this. You can read more on this topic by visiting my blog post, 5 Tips for Downsizing with Dementia: https://organizedhaven.com/5-tips-for-downsizing-with-dementia/
WE HAVE DOWNSIZING RESOURCES AVAILABLE THAT TRADITIONAL MOVING COMPANIES DO NOT
While Senior Move Management® businesses can look different from one another, they all have two main characteristics that define how they are different than traditional moving companies:
A focus on older adults or specialty moves:

Although some Senior Move Managers® provide services to people of all ages, they are specifically trained and experienced serving the older adult demographic

Full-service solutions:

Planning and preparing for the move
Developing floor plans
Preparing the client's home for sale
Scheduling and overseeing movers (or performing the move in-house)
Handling donations
Shipping items to family members
Arranging for storage
Profitably disposing of unwanted belongings
Packing (if properly insured)
Unpacking and resettling the new home (also, if properly insured)
If a moving company claims to specialize in working with seniors who are downsizing, ask questions to properly understand the specific training their movers receive to be able to offer support to seniors who have the above needs. Also, what is it specifically that they do to help seniors downsize?
A COMPREHENSIVE, DONE-FOR-YOU SOLUTION IS PROVIDED TO THOSE WHO REQUIRE A HANDS-OFF APPROACH TO MOVING
Considerable differences exist between Senior Move Management® companies. The personality and focus of each business tends to reflect the expertise and interests of its owners. 
Our Senior Move Management® company was founded in 2013 under the Professional Organizer model. I saw moving as "the ultimate organizational challenge." So did the senior living communities who enlisted my support to help their prospective residents prepare to move. It's common for someone in their 60s to 90s to say they are going to need a couple of years to downsize before they're ready to move.
For those who can't afford to wait that long, it can be imperative they have white-glove support and a company who can provide a completely done-for-them solution. 
While providing hands-on support, a Senior Move Manager® will also help clients feel completely in control, minimizing Relocation Stress Syndrome and increasing the likelihood of a successful transition. 
MOVE MANAGERS HELP ENSURE AN ORGANIZED EXPERIENCE FOR AN OTHERWISE OVERWHELMING TRANSITION
Have you ever had the experience of moving and being completely unpacked and organized by the end of move day? That is what it is like when you choose to work with a Senior Move Manager®! 
Move management companies start every project with a thorough and well-thought-out action plan that is structured to fit each individual client's needs and budget. 
From drawing out a sketch of the new floor plan and placement of furniture, to sorting and downsizing a lifetime of things and stories, a high level of detail, organization, and patience is required to avoid any chance of getting overwhelmed and frustrated. 
Senior Move Managers® have typically completed hundreds or thousands of organized transitions. They have built processes and efficiencies based on this experience and collaborate with Senior Move Managers® across North America and beyond to offer the best support to their clients, whether moving across town or across the country.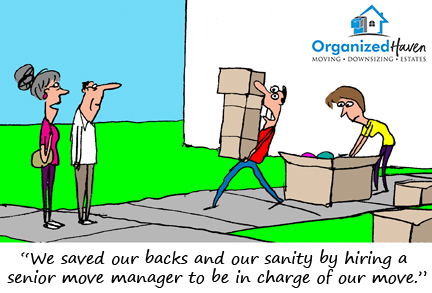 STRESSES ARE MINIMIZED AND FAMILIES CAN SPEND TIME TOGETHER BOTH REMINISCING THE PAST AND PLANNING THEIR FUTURE
While it's easy to determine how much downsizing needs to be done, it's difficult to determine how and if it will get accomplished. Some people know right off the bat that they need professional guidance and support. Others deny the magnitude of the work required, assume they will do the downsizing on their own, or plan to get help from friends and adult children. 
Inevitably, when a client decides to get help from friends and family, disagreements and overwhelm ensue. So much time is spent arguing over the items that have been collected or are being kept that no time is left to remember life's precious moments as EVERYTHING collected in the senior's lifetime is touched. Decision-making, when under stress or left until pack day, makes a move invariably more stressful AND more expensive!
MAINTENANCE PROGRAMS PROVIDE AN OPPORTUNITY FOR LONG-TERM RELATIONSHIPS AND CONTINUED ORGANIZING SUPPORT
The important support provided by a Senior Move Manager® during a senior's transition to smaller living doesn't abruptly stop after the move is complete. Often, Senior Move Management® clients require ongoing support to ensure the client's home remains organized beyond the move. 
A Senior Move Manager® not only makes it look like you didn't move today, but they are also a supporter for years to come. Whether by offering maintenance programs or staying connected with tips and resources to live organized, this friend of the senior aims to offer continued organizing support. It is no wonder why their families also hire them for their future moves!
Be mindful of those who may claim to be a Senior Move Manager®. Confirm they are an actual NASMM trained member by entering a zip code where they operate into the professional directory listing @ www.nasmm.org. Senior Move Manager® is a registered trademark of the National Association of Senior & Specialty Move Managers and only a member can claim this title.
If you happen to get lucky enough to find a local Senior Move Manager® who is Certified and/or a Senior Move Management® company that is NASMM A+ Accredited, know that you have found a company who has taken extra steps to ensure they are well trained & experienced, and has operating standards that have been vetted by NASMM. Organized Haven is one such company and we serve all of Polk County and Central Florida.
PIN IT to remember it!
Your Certified Senior Move Manager®!
💙,
Nicole
By: Nicole Ramer, CPO®, SMM~C®
(Certified Professional Organizer® & Certified Senior Move Manager®)
© 2022 Organized Haven. All rights reserved.
Share this with a friend!