Share this with a friend!
Downsizing can seem like a daunting task, but it doesn't have to be! If you start early and start small you can make it easier for yourself. Do you have 10 minutes a day to invest in living with less? Here are 10 Things to Downsize in 10 Minutes!
10 THINGS TO DOWNSIZE IN 10 MINUTES
PLASTIC STORAGE CONTAINERS AND LIDS
I'd have to say that the most annoying phenomenon in the kitchen is how we never have the same amount of storage containers as we have lids.
They're like socks in that you end up missing partners.
This is a great category to start with when performing 10-minute downsizing tasks as it is one of the least likely categories to struggle with in terms of emotions towards letting go.
Grab all your plastic storage containers and match them up with their other halves.
Recycle the excess or repurpose used containers as drawer organizers.
COFFEE MUGS
If you enjoy a good cup of coffee, you probably prefer drinking it from a cup that you love!
In fact, you likely use one to three of the same mugs all the time while the rest of your collection never sees the light outside the kitchen cabinet.
So, why keep the rest?
Is it because they match your dish set?
If so, sell or donate the dish set and purchase plates that you love as equally as your favorite coffee mugs.
Is it because someone gifted it to you and that someone is special to you?
That someone wouldn't want you to keep it if you didn't love it.
Donate the mug to someone who will use it. 
CHINA
Whether it is your china, your mom's china, or your grandmother's china, if it serves no purpose and gets no use, give yourself permission to let it go.
Grab one to a few pieces of the set for décor, display them on a small shelf or table and donate the rest.
Maybe some of your family members would like to do the same.
Otherwise, you can also sell it online on replacements.com.
If your collection is in a china cabinet, you may find that when you do this, your need for the cabinet goes away and you can replace it with something functional you can use or beautiful you can look at!
Unless, of course, you love your china cabinet and it will remain functional after your china collection downsize.
DVDs, BLU-RAY DISKS AND VHS TAPES
How many times have you watched a movie more than once?
There have been a few movies I've rewatched – mostly those that I introduce to my children, such as the classic Disney titles.
Mostly, we watch new movies and when we do, they are on Netflix or Disney+.
For this reason, we don't have many DVDs or Blu-ray discs.
The only VHS tapes we have are those from the 80s – my ballet and dance recitals and one pageant event from when I was four and wouldn't speak on stage – this is still so embarrassing to me that I prefer not to watch it!
Can I even watch it?
I don't think I even have a VCR I could use if I wanted to.
Anyway, my point is that we have access to so many ways to watch TV and movies nowadays, that this category certainly deserves room on this list of 10 Things to Downsize in 10 Minutes! 
BOOKS
Ok. So, this is a hard one for me.
I call myself a "book hoarder." I just love books.
I have dozens of books on organizing, downsizing, home/office maintenance, and leadership.
One day, I'd love a large library with a sliding ladder and everything!
The problem is that today, I don't have that kind of room!
I've downsized my books a few times over the years, but I for sure buy more than I let go!
It took me 12 years to get rid of my college books!
They were irrelevant the year after print!
Because of my love for reading to learn tools of my trade, and because I employ a team of Professional Organizers and Senior Move Managers®, I have made an Organized Haven library for my team members to check out and get use of my love for books.
Take ten minutes and see if there are any books you either won't read again or don't deserve space in your home for any other reason.
Drop them off at a local library, school, or neighborhood bookstore.
Let someone else with a love for books enjoy them!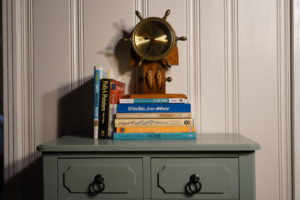 TOWELS / SHEETS
I don't usually "change" my sheets because I wash them and let my bed breathe until they are dry and ready to be put back on.
I only have an extra set of sheets in case of accidents or spills, so this isn't a category that I struggle with.
When my towels are worn or my bathroom décor changes, I get new towels.
If you are aggravated by your stuffed linen closet, don't organize it yet again; downsize the contents of it!
Donate your excess, gently used towels and sheets to your local animal shelter.
They will always accept them as they keep the animals in their shelters warm and clean.
Take 10 minutes and don't second-guess it.
If you don't need, love, or use it, downsize it!
PENS AND PENCILS
I love a good pen! I don't like ballpoint pens, uncomfortable pens, or traditional pencils.
So, I don't let them take up space in my desk drawer.
If you have too many pens, take 10 minutes to sift through them and only keep your favorites.
Have them accessible every place you need them – your desk drawer/organizer, your purse, your car, the kitchen workstation, the kid's homework spot.
Donate the rest to your child's school or see if your local library could use them. 
PLASTIC GROCERY BAGS
It doesn't take long for an abundance of plastic grocery bags to pile up if you grocery shop even just once per week.
The Simple Human Grocery Bag Dispenser easily overflows if you don't put the bags to use frequently.
I use my collection daily for several things: 
Dirty diapers before they go in the trash (contains the smell)

Gather cooking scraps before tossing them in the trash too

Collecting items from the car to bring them inside

Trash from the car

Lining small trash cans



There are so many other things you can probably think of for reuse of plastic grocery bags.
If you have a huge collection of plastic bags and plan to tackle this category of 10 Things to Downsize in 10 Minutes, don't just throw your excess away – see if your local daycare can get use out of them.
They use them for diapers and containing dirty / wet baby clothing.
Our daycare asks us for a stash about once per month, so that helps us to consistently keep them at bay.
*Using the above link to purchase the bag dispenser will result in a small commission for me at no cost to you.
EXPIRED FOODS AND SPICES
My husband Danny has always said that spices don't go bad.
He would be fine with keeping them YEARS past expiration!
We didn't always cook often at home, so it was easy for our spices to go unused and expire.
Now that we cook dinner at home almost every night, we go through them quickly and they don't expire.
If we didn't, I'm not as trusting as he is and I say to treat them like expired foods in the fridge and toss any that are out of date!
Take 10 minutes and see what you can find out of date in your fridge or spice cabinet and see to it that it ends up in the trash.
WORN SHOES AND CLOTHING
It is said that we wear 20% of our clothing 80% of the time.
How many worn shoes and articles of clothing are just sitting in your closet or dresser drawers getting no use?
Whether warn or not, likely you have at least several items that you don't wear.
Take 10 minutes to pull these things out and make a quick decision to donate or toss these unused items.
Imagine loving everything in your wardrobe and making space for more things to love to wear! 
Do you have an abundance of any of these things above?
What will you downsize first?
What else might you find that with just ten minutes a day you can edit and downsize?
Let me know in the comments!
There are so many benefits to owning less and downsizing doesn't have to be perceived as negative or impossible.
Learn more about this on my blog post, Downsizing vs. Rightsizing and the Benefits of Both: https://organizedhaven.com/downsizing-vs-rightsizing-and-the-benefits-of-both/
I enjoyed sharing the benefits of rightsizing and the related services provided by professional organizers and Senior Move Managers® on #YourWeeklyConnection with the Senior Connection Center recently.
You can watch it here!
PIN IT to remember it!
Happy downsizing!
💙,
Nicole
By: Nicole Ramer, CPO®, SMM~C®
(Certified Professional Organizer® & Certified Senior Move Manager®)
© 2022 Organized Haven. All rights reserved.
Share this with a friend!