Share this with a friend!
And just like that, another year has passed! How in the world does time pass so quickly? It feels like only yesterday when we were reflecting on the year behind us – our accomplishments, our experiences, and yes, even our failures.  A new year is always a wonderful time to not only reflect on the last but also to make goals and resolutions for the year ahead. Making plans for what you want to accomplish in the future is important. After all, if you don't know where you are going, then how will you know how to get there?
"If You Fail to Plan, You Are Planning to Fail" — Benjamin Franklin
Sometimes, all you have to do to determine where you are going is to simply see life through a new lens. This was a phrase I learned from my new photographer friend, Danielle Hanusek of Live Wonderful Photography. She was instrumental in helping me tell the Organized Haven story with photos. More on that later. 2021, for Organized Haven, was a year to focus on moving forward in the right direction. I think it was that way for a lot of people and businesses, considering all that we went through in 2020 with COVID-19 – the pandemic that changed EVERYTHING – ALL. OVER. THE. WORLD!  For us, "moving" was the keyword as we had just added moving services to our senior move management business. Moving forward, we were able to better support our clients by doing it all. It was the right direction for us to effectively meet the needs of our clients and ensure a top-notch VIP experience. 
WHAT TO LOOK FORWARD TO IN A NEW YEAR
I have to say – Organized Haven had a REALLY SUCCESSFUL 2020, even though profits took a nose-dive – by a whopping 75 percent! As senior-serving professionals, we did struggle to keep our calendars full, but we made A LOT of progress on our strengths and abilities to serve our senior community post-pandemic. You can learn more about that on our blog post: Goodbye 2020, Hello 2021! Happy New Year!! (there you'll see 10 BIG THINGS we accomplished in 2020)
After such a productive year, what more could we possibly do to better ourselves and our service offering?  While we don't have another list of 10 BIG THINGS to share with you (the number doesn't matter), we did meet some long-time goals that were HUGE for us:
REBUILT OUR WEBSITE
Back in 2013 when I started my one-woman home organizing business, I did so on a dime! Because I couldn't afford to have a website built professionally, I learned how to build one myself. Yep – that's me – a do-it-yourself-er! I'm a curious person. I love to learn how to do new things. Especially creative things. Developing a website from scratch was definitely creative! 
For over eight years, I was our website developer. As our business grew, expanded, and pivoted, I continued to maintain the site. While it worked and I was incredibly proud of it, it really wasn't the best that it could be. 
So, with our recently awarded A+ Accreditation and Best of The Best designation by The National Association of Senior & Specialty Move Managers, it was time to turn our website development over to the experts at Spark Sites right here in Lakeland.  Now, our site reflects our specialties perfectly, allows more flexibility and control, and is more easily found by those who are in search of our services online. Maybe that's you!
Let us know in the comments what you were in search for when you found us…
INVESTED IN PROFESSIONAL BRAND PHOTOGRAPHY
It was quite the journey, organizing website content and reflecting on all that Organized Haven was, is, and will be for our Polk County and Central Florida community. Telling our story and that of the clients we serve in words is quite intriguing and emotional, but I wanted our community to be able to really see what we do. Having pictures of our team in action was the ticket.
"A picture is worth a thousand words." ~Unknown
In my search for the perfect photographer for our website photography, I found SO MUCH MORE in Danielle Hanusek of Live Wonderful Photography. Not only does Danielle know how to story-tell with photography, but she TEACHES storytelling photography! This was the perfect connection that will help me reach my goals for years to come… 
Ask anyone who knows me – I LOVE taking photos!!! Even to some of my family members' dismay. My mama and my niece, Briana HATE it when I pull out my camera! 
STARTED BLOGGING TO EDUCATE OUR AUDIENCE
Okay, so I had a blog on our old website. Not a particularly good one, if I may add. I love to write, especially about the work we do here at Organized Haven, but my old website DID NOT have a functional blog platform. Let's just leave it at that.
The weight of the world is on our client's shoulders. Most of them are facing challenging transitions in downsizing and moving. They have accumulated SO MUCH in their lifetimes and the kids don't want their stuff. I'm sure you've read the articles.
Or maybe, you are an adult child of a parent who saved EVERYTHING for you – from baby clothes to stuffed animals to drawings and report cards, and everything in between. 
Educating our fans, followers, and community about home organization, downsizing, moving, and estate clearing is a passion for me. I consistently speak at senior living communities, but this was one focus for me in 2021 that I am so proud to have accomplished! 
HIRED A SOCIAL MEDIA MANAGER
Danielle and the great folks at Spark Sites weren't the only professionals I was blessed to do business with this year. Karlie Holliday of helloCreate was my match when it came to telling our story on social media.  Interacting with our followers and sharing information with those who are trying to find the best mover or organizer is a full-time job – a lovely, warm, and pleasant one at that. As the wearer of many, many hats at Organized Haven (the equivalent of 3+ full-time jobs), I came to the realization in 2021 that I needed to pass the social media hat on too.  With Karlie and the creativity she brings from helloCreate, our readers see the real Organized Haven.
Our collaborative goal is to build engagement and trust with you, our reader, and to continuously provide you with knowledge to help ease your overwhelming transitions and organizing projects.  It's amazing how bringing others in on the completion of your projects helps to meet your goals in a way that you never thought possible. With a little trust, and the willingness to let go of some control, this was one of the best decisions Danny and I made this year. 
BUILT OUR NEWLY COMBINED SERVICE OFFERING
A photographer, a web designer, and a social media manager weren't the only individuals/companies hired to perform an important job. Finding the right movers to be a part of our A+ team was even more important. As we provide a VIP experience for all our clients, it requires the most experienced and professional movers. We are so proud of our movers, Jeff and Dawson, and appreciative of the exceptional service they provide our clients! 
Our movers, professional organizers, senior move managers® and our administrative team have worked tirelessly on building efficiencies in our process for the success of our clients. With newly customized software, policies and procedures, training, education, and more, they have improved every aspect of what we do, allowing me to delegate more of what I do so that I can remove more of the heavy hats from this oh-so-full head of mine! 
Being behind-the-scenes as a business owner is one more thing I NEVER thought I would EVER do! After all, working with my senior clients and their adult children on their downsizing journeys is my FAVORITE thing to do!
What I have found as this business has grown that I REALLY LOVE to do, however, is tell our stories and the stories of our clients. Learning their stories and sharing their stories in 2022 is going to require what? You guessed it… Seeing them through a new lens! So, what will you see Nicole doing in 2022?
GETTING RECONNECTED IN PERSON WITH MEMBERS OF OUR COMMUNITY
These past couple of years have been heavily virtual when it comes to networking and relationship building. Attending after-hours events, grand openings, realtor and senior-living community events have basically been a thing of the past for me since having a baby and welcoming a pandemic 6 months later! 
As outgoing President of the Board for Better Living for Seniors Polk, I've had the opportunity to pivot our group of senior-serving professionals and maintain connections virtually for the safety of our network and the seniors we serve. As we continue to recover and begin to meet in-person again, you'll find me attending monthly meetings, any planned special meetings as needed by the board, and events where additional support is needed.
BLOGGING (WEEKLY) ABOUT ALL THINGS ORGANIZING, DOWNSIZING, ESTATE CLEARING, AND MOVING
We wrote 13 blog posts that went live all at once with our new website on October 21, 2021. By this time next year (December 2022), you will have more than 65 blog posts that will help you meet your goals of getting organized and staying organized!
INTRODUCING HAVEN HAPPENINGS NEWSLETTER (MONTHLY)
Without spamming any inboxes, I'll be keeping in touch with our clients, partners, colleagues and community by way of a monthly newsletter with resources to help make them successful.
GIVING WEBINARS AND DOWNSIZING AND SPECIAL CLASSES AS PLANNED THROUGHOUT THE YEAR
If there is one thing that is a keeper from our pandemic experience, it's Zoom! While it can be strange and uncomfortable to watch yourself on screen, there is something to be said for presenting at the comfort of your desk. No traffic, no health concerns, no pants… just kidding! Ha! 
In all seriousness, teaching and learning downsizing skills and techniques does not require leaving your home or office, listening to a sales pitch, or taking hours out of your day.  You can expect our first webinar on Rightsizing Your Senior Move on Friday, January 28 @ 1 PM. 
WELCOMING CHANGE
Change is hard. It's something that can be hard to look forward to because it requires learning and doing new things.  If there is one thing that is constant, it's change. At least that has been the story of my life as my business and family has grown.
These changes have brought about a change in my mindset. A change in what's important to me and the success of my family – my home family and my work family.  Less stress, a better work-life balance, a well-managed household, a financially sound business, and more time with my husband and kids are just a few of the priorities on my list for 2022. 
What are some of the changes you'd like to see in 2022? Do you have any organizing projects you plan to tackle? Let me know in the comments!
Start in January. January at NAPO – The National Association of Productivity and Organizing Professionals – is GO (Get Organized & Be Productive) Month. Follow us on Facebook and Instagram for organizing tips and resources to help you live a more organized and productive life in 2022.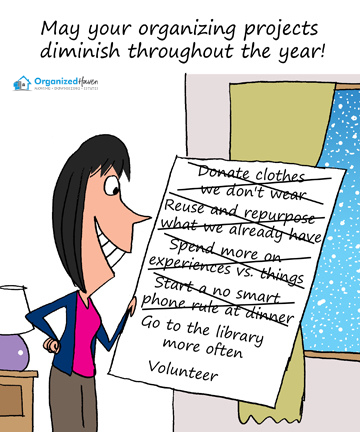 PIN IT to remember it!
Wishing you a healthy, prosperous, and happy 2022!!
💙, 
Nicole 
By: Nicole Ramer, SMM~C
(Professional Organizer & Certified Senior Move Manager®)
Share this with a friend!