Share this with a friend!
In the six years I have specialized in unpacking and setting up new homes, I have seen my fair share of overstuffed, unlabeled, and disorganized packed boxes from clients who completed their own packing. As a professionally trained and experienced packer, I recommend a packing process that makes unpacking a breeze.
Congratulations! You have packed all your belongings for today's move! Every box is sitting in the room where the items came from, and the movers have begun to load the truck. You'll be loaded and headed to your new home in no time!
But wait! The movers are now asking where all your boxes go because you forgot to include on the label which room each box belongs in. Furthermore, you have no idea what is in each box! Which box will you open first?
You're starting to realize that unpacking is going to be a complete nightmare!
WHAT SHOULD I CONSIDER BEFORE PACKING UP TO MOVE?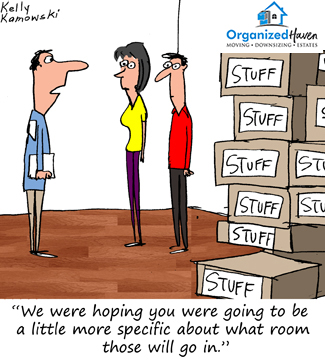 WHERE THE ITEMS WILL GO
It is important to label each box with the specific room that the contents will go in. DO NOT, I repeat, DO NOT label your boxes box with where it came from in your old home, for your new home may not have the same room names. For instance, your current home has a Florida room, but your new home does not.
HOW TO SAFELY PACK
Use boxes of appropriate strength, size, and shape for the contents within. For heavier items such as cans and books, use a small 1.5 cubic foot box. Medium boxes can hold larger, lighter items, such as small appliances. Large boxes are good for linens and bedding. Use dish pack boxes that are double corrugated for your breakables and dish sets. Packing paper, packing tape, and dish pack cell kits are all you need in addition to your boxes.
Do not use grocery bags, trash bags, or liquor store boxes — your items will not be safe or convenient to transport.
WHAT TO PUT ON THE LABEL
Not only should you write the room name on the box, but you should also include enough detail that it's easy to understand what's in the box. Is it an essential item that needs to be unpacked on the first day, or is it decor that can wait?
Either way, make sure you know where the coffee pot is! 😜☕
See my blog post on "How to Label Your Boxes for an Efficient Move" for detailed tips.
DETERMINE IF YOU HAVE ROOM FOR EVERYTHING
There is nothing worse than getting everything into your new home in one piece, only to realize that there isn't enough room for everything, and even worse, it's all sitting under a huge pile of boxes! Thoroughly consider the space you are moving to and if you need to downsize your household goods before packing.
See my blog post on "How to Get Mom or Dad Ready for Their Next Move" if you may need to space plan and downsize.
Need help packing? Hire professional organizing and move management companies like Organized Haven to keep it organized. This will help to ensure that you don't move more than what fits into your new space and lifestyle, as well as it will keep move day (and beyond) efficient and stress-free! Find a professional near you at www.NASMM.org or www.NAPO.net.
And for or the sake of everyone's sanity, don't label your boxes "STUFF"!
Have you ever made any of these packing mistakes? Do you have any other tips for how to pack for ease of unpacking?
PIN IT to remember it!
Happy packing!
💙,
Nicole
By: Nicole Ramer, SMM~C
(Professional Organizer & Certified Senior Move Manager®)
Share this with a friend!