Share this with a friend!
Over the years, we have worked with hundreds of adult children of our senior clients, and our experiences have varied. There have been those who are incredibly involved and helpful, to those who are not at all involved or don't know how to help in the moving process. In both scenarios and everything in between, we've discovered how to help you get mom or dad ready for their next move. 
So, your senior parent(s) are moving. They have lived in their home for 30, 40, or 50+ years and have accumulated quite a bit in their lifetime. Memories are attached to every item in the house – not just their memories, but yours too, if this was your childhood home. Going through the process of sorting through this lifetime of memories can be not only physically exhausting but also quite emotional.
The decision to downsize and move to a senior living community was one that took time, patience, and considerable thought. Mom and Dad have enjoyed their retirement and independence, and they are not fond of the idea of living in a smaller space. Additionally, they may feel as though they are losing their independence.
Once they come to terms with the decision to move to a senior living community, then comes the need to put even more time, patience, and thought into downsizing the contents of their home. They certainly don't want to take more than their new space will accommodate.
HOW TO PREPARE MOM OR DAD FOR THEIR NEXT MOVE AND AVOID BRINGING TOO MUCH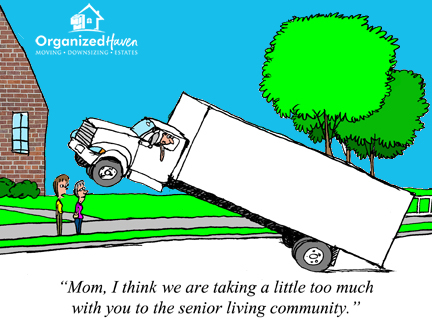 UNDERSTAND THE NEW SPACE AND LAYOUT
Knowing the space's abilities and the limitations of the new home is an essential first step to determining how much room there is for furniture and other household goods. Having several walk-through visits and measuring the floor space will give you an understanding of the kind of room you have for furniture and contents.
Look into obtaining a contractor's floor plan and using it to document the measurements of each wall, window, and closet. If there isn't one, using good old-fashioned grid paper will do the trick.
MAKE INITIAL CHOICES ON KEY FURNITURE PIECES TO BRING
Notate the must-have furniture pieces on a wish list that is organized by room (i.e. the room it sits in now). As you do this, place a colored dot (you can get them at Staples, Amazon, etc.) directly on each piece of furniture. Don't think too much about the stuff that is on/in the furniture at this point.
MEASURE FURNITURE AND DRAW IT OUT
Go room by room with your furniture list and measure each piece: Width x Depth x Height for consistency. Get grid paper (also at Staples, Amazon, etc.) and start imagining where each of your must-haves might fit best. There are online design applications that you can use. We have made hundreds of professional space plans with www.RoomSketcher.com.
Want a more hands-on approach? See if you can visit the new home in advance and use blue painter's tape to draw it out on the floor. Any of these ways will take trial-and-error, but they are all useful methods to help you get mom or dad ready for their next move.
SORT HOUSEHOLD CONTENTS BY CATEGORY
The furniture is not the only thing to consider when downsizing. Most importantly, you want to ensure you are not packing and moving too many contents from walls, cabinets, drawers, and closets. Depending on the size of your home and the number of goods within it, this process could take days, weeks, or even months, but thoughtful consideration of the number of items you will squeeze into your new space is necessary as there is only so much of it.
Sorting by category is a helpful approach. There are typically clothes in multiple closets, memorabilia scattered everywhere, and everyday essentials here, there, and everywhere. Pull everything out and find make-sense spaces and place-like items together.
Have you ever heard the saying, "you don't know how much you have until you have to move it?" It's so true!
MAKE DOWNSIZING DECISIONS
Now that you know how much you have, it is now time to downsize each category. Make decisions based on what you love, currently use, and intend to continue using. Ask yourself these questions when downsizing your clothes, kitchenware, decor, accent furniture, and other accumulations:
Does it fit you?
Does it still fit the life you are currently living?
Does it make you feel good when you wear it?
Have you worn or used it in the last 6-12 months?
Do you have to keep the entire 12-person dish set?
Will you be entertaining in your new home?
The goal is to create a new space that has what you need, love, and use daily, weekly, monthly, and seasonally without exceeding the space available.
Understand that going through this process with your parents might be challenging. They may be reluctant to let things go or may be proud of their abilities to take care of things themselves and do not want any help. Please be aware, this mindset could potentially lead to poor decision-making and could cause them to overload their new home.
Either way, they should remember this philosophy while going through the process:
"Take things that are useful and that you adore. Fewer things will be needed. Less is MORE!"
~Nicole Ramer, SMM~C
If expert help is needed, consult with senior move specialists like Organized Haven. We will help you avoid bringing too much, will space plan, and will provide you with proven downsizing solutions.
Mom and Dad (and you) will have peace of mind knowing they are ready for their next move.
Just remember that a little bit of planning pre-move will go a long way!
Have you gone through this process before with another loved one? If so, what was your experience?
PIN IT to remember it!

Happy move / space planning!
💙,
Nicole
By: Nicole Ramer, SMM~C
(Professional Organizer & Certified Senior Move Manager®)
Share this with a friend!