Share this with a friend!
The real estate transaction for those over 50 looks different than that for those under 50. The problems older adults face when buying and/or selling a home require different solutions that address their true needs when downsizing, which may include finding a proper retirement home where they can retire safely and securely.
AVOIDING CHAOS WHEN DOWNSIZING & SELLING YOUR HOME
During our last webinar, Nicole Ramer, Certified Professional Organizer® and Certified Senior Move Manager®, talked about Avoiding Chaos When Downsizing & Selling Your Home by focusing first on figuring out what to do with the contents of the house before listing it for sale.
This is one of the most important things a senior should do to ease the stress of such an overwhelming life transition. Choosing a realtor that will complete the real estate transaction with the patience, professionalism, and expertise that is needed for seniors facing such transitions is also key.
If you missed our last webinar, watch it here:
THE REAL ESTATE TRANSACTION FOR THOSE OVER 50
Not all realtors understand the major financial and lifestyle transitions of their older clients, but this month we will hear from local Realtor® and Seniors Real Estate Specialist®, Donna Kay Dinkins with Focus Group Florida at Keller Williams Lakeland about why the real estate transaction is different for those over 50 than it is for those under 50.
Donna is trained in housing options and amenities such as Independent Living, Assisted Living, CCRC (Continuing Care Retirement Community), and Skilled Nursing Facilities. As an SRES®, she specializes in helping mom or dad transition out of the family home in a way that addresses his or her long-term care needs.
Join Nicole and Donna in this interview-style educational event that will guide you through the process of selling the family home and purchasing the dream retirement home while considering the financial and lifestyle needs of those over 50.
Attend the live webinar to receive The Ultimate Guide to Managing a Move with practical tips from Organized Haven, the experts in downsizing and moving.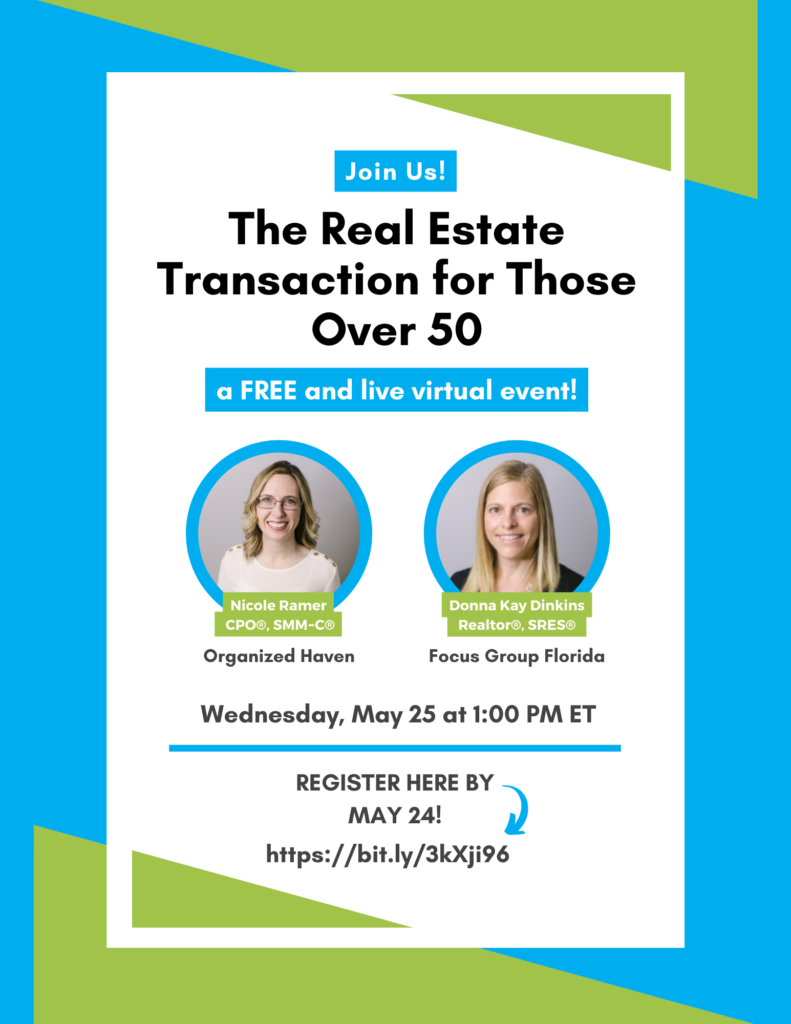 Register here for The Real Estate Transaction for Those Over 50: https://bit.ly/3kXji96
ORGANIZING AND DOWNSIZING RESOURCES, TIPS AND SOLUTIONS
More on-demand webinars with organizing and downsizing resources, tips and solutions can be found on our new YouTube channel here: https://bit.ly/39ccCS7
Subscribe and click the bell to receive "All" notifications when new, helpful content is added.
Organized Haven is an A+ Accredited moving, downsizing/estate clearing and organizing company serving Polk County and Central Florida seniors and their families who wish to "rightsize" their home and the contents within.
Whether aging-in-place in the comfort of your own home or downsizing and moving to smaller living arrangements, follow us for solutions to help you meet your organizing goals.
PIN IT to remember it!
Happy Selling!
💙
Nicole
By: Nicole Ramer, CPO®, SMM~C®
(Certified Professional Organizer & Certified Senior Move Manager®)
© 2022 Organized Haven. All rights reserved.
Share this with a friend!