Share this with a friend!
Happy December! Can you believe we are in the last month of 2022? Has this year flown by or what?! I know, I know… don't we say the same thing every year?!
Christmas is now right around the corner, and for all of you online shoppers, I've put together a Holiday Gift Guide for Organizers! These items will make the perfect gift for that special person in your life who loves to stay organized or needs to get organized! These items have been tested and approved by me (a Certified Professional Organizer® with nearly a decade of experience organizing homes for a living), and are guaranteed to bring order and functionality in 2023!
NICOLE'S 2022 HOLIDAY GIFT GUIDE FOR ORGANIZERS
Honestly, I could have listed dozens (and dozens) of organizational items that I love, but I tried really hard to keep the list down to my absolute favorite purchases of 2022. I've also included my favorite organization-related books, because after all, organizing products only go so far! There is a psychological aspect to organizing that can't be helped by products, but a good how-to book (or better yet, how not-to) really goes a long way to understanding organizational challenges and ways to overcome them. For your future reading on that topic, bookmark my blog post on The Barriers to Letting Go of STUFF. 
Have fun browsing! 
**Some of the links below are affiliate links. This means that, at zero cost to you, I will earn an affiliate commission if you click through the link and finalize a purchase.
MY TOP ORGANIZING BOOK PICKS
Do you or does a special person in your life love to read? I know I do! I read to learn and my favorite books to read are on organization and downsizing, of course! Here is my 2022 holiday gift guide for organizing books: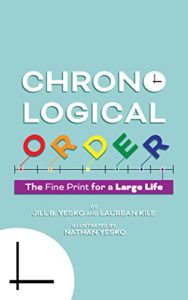 Chronological Order: The Fine Print for a Large Life is a self-help, decade-by-decade guide to living a healthy and organized life. Just like What To Expect When You're Expecting (Workman Pub., 1991) provides help through every step of a pregnancy, Chronological Order intends to be a manual that people can reference throughout their lives. By giving research-backed facts, amusing and relevant anecdotes, as well as Reality Checks to drop those harsh truths—this book intends to entertain and educate everyone on the best ways to be happy, healthy, and organized throughout every decade of their life. There have been other books that may focus on one topic or one decade of your life, but none have dared to be as ambitious as this. This book will encompass a person's life from their roaring 20s to the golden years and beyond. Using tips and ideas, worksheets, and guides for very specific challenges and general life goals—as well as a cross-referencing tool and index—this book will have it all. Written by two experts in their fields, Chronological Order was a collaborative effort between Jill B. Yesko and Laurean Kile, who spent the majority of their careers working with people in transition, and have decades of experience in helping people in the later stages of their lives.
They have spent years creating a repertoire of skills and processes that can help someone throughout the process of aging. They each have been asked to speak about their expertise at accredited organizations and national conferences throughout their careers, and Laurean has added a personal Podcast to her speaking gigs. Both authors have had to go through the trials and tribulations that life has offered. They have experienced tragedy, helped others through their own crises, dealt with their own parents' mortality and aging process, and survived the crucible of life to come out the other side ready to help others!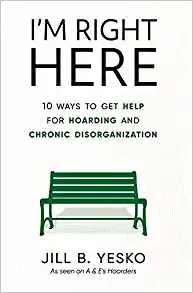 In every neighborhood in every city, there is someone living in a home packed with possessions, perhaps spanning floor to ceiling as in the extreme cases we've seen on TV. There are times we all grapple with household clutter and feel disorganized. But when chronic disorganization or hoarding behavior seriously impacts the quality of our lives or the lives of people we care about, compassionate, professional intervention can help.
In "I'm Right Here: 10 Ways to Get Help for Hoarding and Chronic Disorganization," Jill Yesko, a Certified Professional Organizer(R), explains the difference between chronic disorganization and hoarding disorder and the multiple ways to access resources for help. Some people develop a hoarding disorder after experiencing a traumatic life event. Others accumulate items due to brain-based challenges such as depression, anxiety, or attention deficit disorder. Whatever the underlying reason is, Yesko outlines the resources available to those experiencing extreme organizing challenges with their environments. She explains the advantages of collaborative therapy and the importance of effective communication and support during the decluttering process.
Yesko shares her colleagues' strategies and her own experiences, including her work on the TV show Hoarders. Her sensitive, nonjudgmental approach offers hope and healing to people suffering from CD and hoarding disorder. This guide can also be used by therapists, case managers, social workers, and any other helpers to find and access appropriate services and achieve successful outcomes for their clients.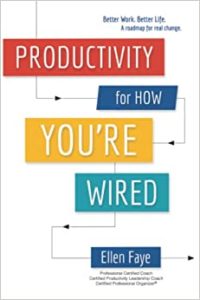 If you've put in the work, tried the apps and planners, but still aren't getting the results you'd hoped for — it's not hopeless! You just haven't discovered the way YOU work best.
Because it's not about doing more — it's about doing the right things in the way that's right for you — not just for better productivity, but for a less stressful, more intentional and fulfilling life.
Productivity for How You're Wired provides a customized three part plan with applicable, real-life solutions that empower you to:
1. Build a foundation of self-understanding
2. Create systems and habits that fit how you're wired
3. Apply these strategies for lasting change
Brought to you by productivity, business, and leadership coach, Ellen Faye. Her approach is a proven-from-the-trenches, easily personalized framework that's been guiding clients to their own success for over two decades.
Productivity for How You're Wired is more than a time management method. It's your guide for discovering the strategies that work for you. You'll learn to create better habits, and be more productive in the right ways, so you can stop worrying about what you're NOT doing and get your important work done.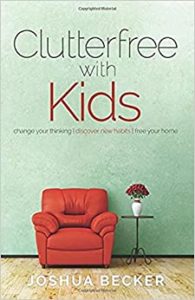 Children add joy, purpose, and meaning to our lives. They provide optimism, hope, and love. They bring smiles, laughter, and energy into our homes. They also add clutter. As parents, balancing life and managing clutter may appear impossible—or at the very least, never-ending. But what if there was a better way to live? Clutterfree with Kids offers a new perspective and fresh approach to overcoming clutter. With helpful insights, the book serves as a valuable resource for parents. Through practical application and inspirational stories, Clutterfree with Kids invites us to change our thinking, discover new habits, and free our homes. It invites us to reevaluate our lives. And it just may inspire you to live the life you've been searching for all along.
Praise for Clutterfree with Kids: • "Clutterfree with Kids is a wonderful guide that any parent will find both practical and inspirational. If reducing clutter, creating more time and raising more aware children are your goals, this book is not to be missed." —Peter Walsh, Author of It's All Too Much • "Highly recommended for all parents." —Leo Babauta, Zen Habits • "This book is wrecking me! All I want to do is de-clutter everything." —Eileen Donaruma, Mother • "Clutterfree with Kids is a splendid resource that teaches a better way to live and shows us that true joy comes from owning less and spending more time pursuing things that matter most." — Kimberley Blaine, Executive Producer, TheGoToMom.TV • "Joshua Becker's Clutterfree with Kids is filled with practical strategies and deep wisdom. It is a must read for professional organizers and parents! He brings an important message to the world. His easy to read style, clear ideas, and inspiring personal journey, provide a great catalyst for reconsidering our lives." —Linda Samuels, CPO-CD • "Clutterfree With Kids is a great motivating read for any family. Simple steps to set your family free from clutter and leave a lasting legacy for your children." —Jeff Pope, Father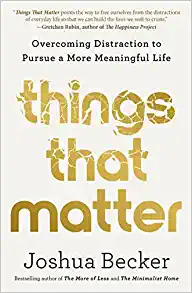 Do you want to live a meaningful life—with very few regrets—and make a positive difference in the world? But is culture distracting you from doing so? Perhaps moments, days, and years go by without you stopping to ask yourself, Am I living out my true purpose? Even if that question whispers to you, are you brushing it aside because you don't know what to change in life's busyness?
In Things That Matter, Joshua Becker helps you identify the obstacles—such as fear, technology, money, possessions, and the opinions of others—that keep you from living with intention, and then he provides practical ideas for letting go of those distractions today so you can focus on what matters most. He uses practical exercises and questions, insights from a nationwide survey, and success stories to give you the motivation you need to
• identify the pursuits that matter most to you
• align your dreams with your daily priorities
• recognize how money and possessions keep you from happiness
• become aware of how others' opinions of you influence your choices
• embrace what you're truly passionate about instead of planning that next escape
• figure out what to do with all those emails, notifications, and pings
• let go of past mistakes and debilitating habits
Things That Matter is a book about living well. It's about overcoming the chatter of a world focused on all the wrong things. It's about rethinking the common assumptions of today to find satisfaction and fulfillment tomorrow.
How do we get to the end of our lives with minimal regrets? We set aside lesser pursuits to seek lasting meaning. And we discover the joy of doing it every day.
Don't Settle for More
Most of us know we own too much stuff. We feel the weight and burden of our clutter, and we tire of cleaning and managing and organizing.
While excess consumption leads to bigger houses, faster cars, fancier technology, and cluttered homes, it never brings happiness. Rather, it results in a desire for more. It redirects our greatest passions to things that can never fulfill. And it distracts us from the very life we wish we were living.
Live a better life with less.
In The More of Less, Joshua Becker helps you…
• Recognize the life-giving benefits of owning less
• Realize how all the stuff you own is keeping you from pursuing your dreams
• Craft a personal, practical approach to decluttering your home and life
• Experience the joys of generosity
• Learn why the best part of minimalism isn't a clean house, it's a full life
The beauty of minimalism isn't in what it takes away. It's in what it gives.
Make Room in Your Life for What You Really Want
"Maybe you don't need to own all this stuff." After a casual conversation with his neighbor on Memorial Day 2008, Joshua Becker realized he needed a change. He was spending far too much time organizing possessions, cleaning up messes, and looking for more to buy.
So Joshua and his wife decided to remove the nonessential possessions from their home and life. Eventually, they sold, donated, or discarded over 60 percent of what they owned. In exchange, they found a life of more freedom, more contentment, more generosity, and more opportunity to pursue the things that mattered most.
The More of Less delivers an empowering plan for living more by owning less. With practical suggestions and encouragement to personalize your own minimalist style, Joshua Becker shows you why minimizing possessions is the best way to maximize life.
Are you ready for less cleaning, less anxiety, and less stress in your life? Simplicity isn't as complicated as you think.
A popular minimalist blogger and author of The More of Less shows you how to methodically turn your home into a place of peace, contentment, and purposeful living.
One of today's most influential minimalist advocates takes us on a decluttering tour of our own houses and apartments, showing us how to decide what to get rid of and what to keep. He both offers practical guidelines for simplifying our lifestyle at home and addresses underlying issues that contribute to over-accumulation in the first place. The purpose is not just to create a more inviting living space. It's also to turn our life's HQ—our home—into a launching pad for a more fulfilling and productive life in the world.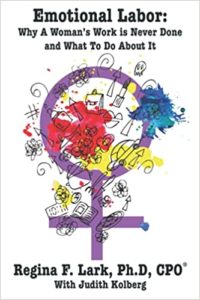 Emotional labor
 is the unnoticed, unwaged, unwritten work women do in the home and in the paid workforce. It includes everything from assuring socks match to coping with a virus, schooling, a job and family life all under one roof. Largely invisible, the mental load of emotional labor weighs heavily on the shoulders of women. Dr. Regina Lark, the author of 
Emotional Labor: Why A Woman's Work is Never Done and What to Do About It
 is a feminist historian with years of professional organizing experience in homes, offices and storage spaces. This book examines women's relationship to emotional labor from early American history to the COVID-19 era. Emotional labor is generally thought to be women's work, whether at home or in the office, but it is actually not gender specific. It's just, well, work!
Judith Kolberg, a thought-leader in the organizing industry, collaborates with Lark to disrupt the narrative. Lark and Kolberg give emotional labor the respect it deserves as work that is essential to a well-functioning home, family coherence, order, organization and happiness. 
Emotional Labor: Why A Woman's Work is Never Done and What to Do About It
 advocates for a more equitable sharing of emotional labor. The book offers tools and exercises to promote equity including on-going dynamic dialogues, a brand of delegating that directly eases emotional labor, and a ground-breaking reference tool called The Emotional Labor Lifecycle. It also calls for support of social action that addresses women's rights and equality.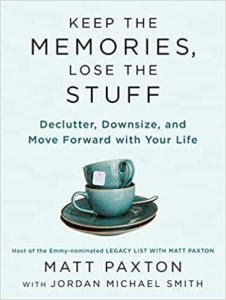 America's top cleaning expert and star of the hit series Legacy List with Matt Paxton distills his fail-proof approach to decluttering and downsizing.
Your boxes of photos, family's china, and even the kids' height charts aren't just stuff; they're attached to a lifetime of memories–and letting them go can be scary. With empathy, expertise, and humor, Keep the Memories, Lose the Stuff, written in collaboration with AARP, helps you sift through years of clutter, let go of what no longer serves you, and identify the items worth keeping so that you can focus on living in the present.
For over 20 years, Matt Paxton has helped people from all walks of life who want to live more simply declutter and downsize. As a featured cleaner on Hoarders and host of the Emmy-nominated Legacy List with Matt Paxton on PBS, he has identified the psychological roadblocks that most organizational experts routinely miss but that prevent so many of us from lightening our material load. Using poignant stories from the thousands of individuals and families he has worked with, Paxton brings his signature insight to a necessary task.
Whether you're tired of living with clutter, making space for a loved one, or moving to a smaller home or retirement community, this book is for you. Paxton's unique, step-by-step process gives you the tools you need to get the job done.
MY TOP ORGANIZING PRODUCT PICKS
Now that you know my favorite organizing books from 2022, here is my holiday gift guide for the best organizing products I found to help me in my home this year: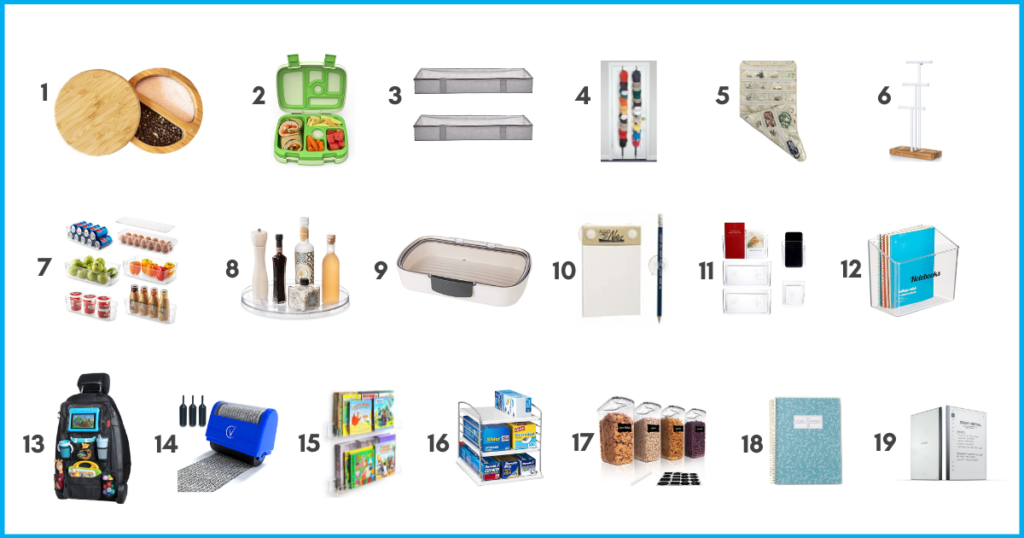 Are there any organization products that you fell in love with this year? I am always up for trying new things! Leave a comment and let me know your top picks! 
PIN IT to remember it!
Wishing you a wonderful holiday season! Happy shopping!
💙, 
Nicole 
By: Nicole Ramer, CPO®, SMM~C®
(Certified Professional Organizer® & Certified Senior Move Manager®)
© 2022 Organized Haven. All rights reserved.
Share this with a friend!