Share this with a friend!
Christmas is quickly approaching, and for all of you last-minute shoppers, I've put together a Holiday Gift Guide for Organizers! These items will make the perfect gift for that special person in your life who loves to stay organized or needs to get organized! These items have been tested and approved by me (a Professional Organizer of 9 years) and are guaranteed to bring order and functionality in 2022!
ORGANIZATIONAL GIFTS
Honestly, I could have listed dozens of baskets, bins, containers, and other items that I love, but I tried to keep the list down to my absolute favorite items! 
**Some of the links below are affiliate links. This means that, at zero cost to you, I will earn an affiliate commission if you click through the link and finalize a purchase.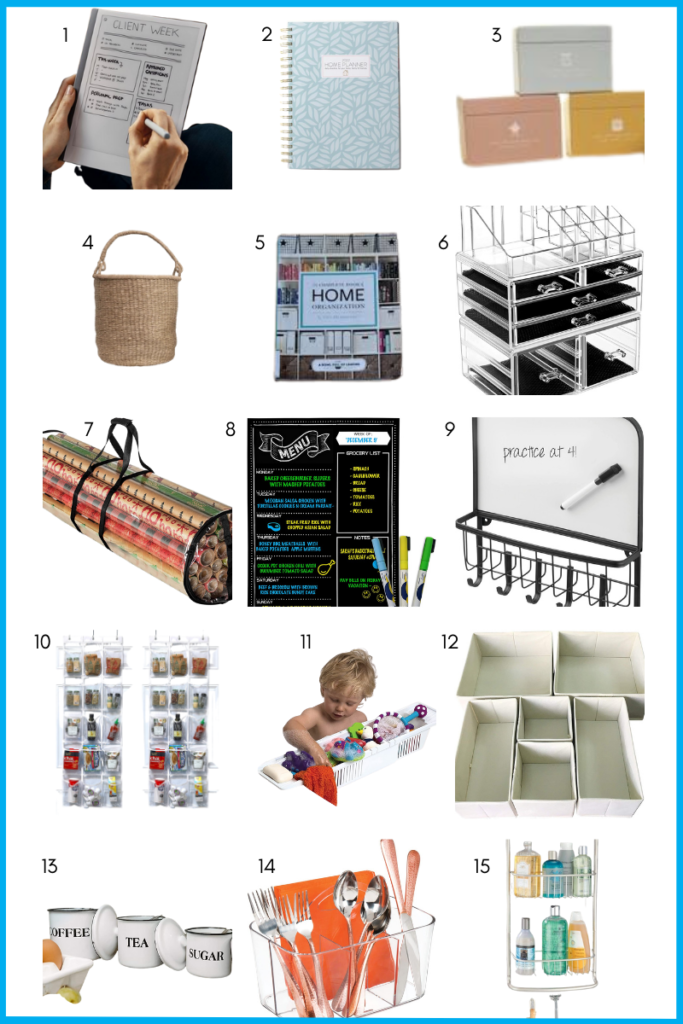 I get so much out of putting pen to paper! Everywhere I go I need a notebook to take notes of reminders, thoughts, and to-dos. However, it can be extremely difficult to keep your notes organized, unless you master the process of moving the noted information to other locations or file them in the proper categories. The answer for me was the ReMarkable 2!
With my ReMarkable 2, I have one digital notebook that contains all my notes inside of folders that I've created for easy retrieval. It is lightweight and feels and sounds as if you are handwriting on paper! The documents are easily shared and can be converted to text.
Please note – this device is not meant to surf the web, read email, or receive ANY notifications, but that's the beauty of it to me — no distractions, only focused writing! It truly is the ultimate paper notebook, but with digital powers! One notebook contains all the focused notes that go everywhere with me and are easily accessed. This was my absolute favorite purchase of 2021! I recommend it for all business professionals, especially those who thrive on organization. 
Finding the perfect planner for your needs is not an easy task! There are SO MANY to choose from! It is hard to determine the right one for you without just buying and trying it. Every year, I feel as though the one I went with didn't end up being the ticket to a completely organized life with met goals and expectations. So, here again at the end of 2021, I needed to change my planner of choice.
THIS planner from Passionate Penny Pincher, my friends, IS THE TICKET! For me, it is the ticket to keeping my home, my family, and my finances in order. Why do you ask? Because it comes complete with built-in checklists for maintaining and cleaning your home, decluttering, downsizing the contents of your home and planning your meals for the week. I'll be honest and say that these are all areas that have been tough for me since I stay busy working on and in my business.
My planner has never included room for the needs of my entire household before now. My purchase came with PDF access to the 4th quarter of 2021, so I have had the opportunity to practice using the planner early. It is clear how helpful this is going to be as someone who thrives with the use of checklists. I would recommend this planner for anyone who is working on better organization and management of their household.
Meal planning is the key to gaining control over your budget and time! It is so frustrating to wonder what is for dinner after a full day of work. Not to mention the need to figure out WHERE to eat when you have nothing in the pantry. Eating out and making last-minute decisions on what is for dinner is costly – on your time and your wallet!
Remember the home planner above? The Passionate Penny Pincher, Laurie Hise, is the creator of it. Laurie is passionate about living frugally and taking care of her home and family. She and her family have spent years creating recipes that are tasty and include affordable ingredients.
Have you ever made a Publix Aprons recipe? Do you remember knowing what some of the ingredients even were? Those are the kinds of recipes that break the bank and cause a waste of ingredients, as they aren't commonly found in the other recipes you may make. No offense to Publix Aprons, but if you are looking for recipes that the whole family will love, that are simple and affordable, look no further than to The Passionate Penny Pincher. Her menu plan packs would make a great gift for a busy professional, or a stay-at-home Mom or Dad. 
These seagrass baskets by French Mercantile are a perfect place for sofa blankets, magazines, or anything you'd like to contain for a clutter-free living room. I love them specifically because they add a natural, clean touch to the space. This would make a great gift for a family with young children who tend to leave things out. 
I have a lot of home organization books, but this is one of my favorites! I've been following Toni of A Bowl Full of Lemons for years. Her blog posts have always been the Cream of the Crop and her books are no different! There are so many out-of-the-box organization ideas in this book – some that I have never even seen before. I also like her idea of having an organization "game plan" for each week that eventually leads to a completely organized home. The pictures are inspiring, the colors are vibrant, and did I mention that it looks fantastic on my coffee table? It is truly a beautiful and helpful book that will simplify organizing your home. 
I was looking for the perfect makeup organizer for years – one that was functional and visually appealing, and I finally found it! It's so nice not having to dig through a drawer to find my mascara, instead, all my makeup is beautifully displayed and organized on my bathroom counter. The drawers are surprisingly spacious and slide open and closed easily, and the plastic is thick and durable. I also love how you can stack it in different ways. Ladies – this is the holy grail of makeup organizers! 
This wrapping paper storage bag is an absolute must for your wrapping paper! Admittedly, prior to purchasing this, I didn't really have an efficient (or neat) storage solution for all my wrapping paper – I just had all my rolls of wrapping paper in the corner of my closet. I love that this bag is clear so you can see which roll you are grabbing, and I was pleasantly surprised how many rolls in can hold. The plastic is strong and durable and the handles are a plus if you need to move it to another room while you are wrapping gifts. I'm actually contemplating on buying a 2nd – one for Christmas wrapping paper and one for birthday wrapping paper. This is definitely the storage solution I was looking for! No more dusty wrapping paper! 
Meal planning is something that I have always dreaded. Typically, I end up deciding what we are having for dinner the night of. I have started using this magnetic board to write out our meals for the week and it's been a total game-changer! No longer do I have to hear my husband ask me what's for dinner! It's a great size, wipes clean easily, has a cute design, and the little magnetic chalk markers are a bonus!  I especially love the little notes section – I use it as a grocery list or for leaving my husband a little note in the morning. This is a great meal planning tool! 
I used to be the queen of losing my keys and sunglasses, but not anymore! Searching my entire house in the morning and digging in my purse to find them was just not working! Now, I have this hanging organizer right by the door leading into my garage. It was super easy to hang and it is very sturdy. Now, right when we walk in the door, there is an accessible and functional place to hang these items. We also hang our masks on the hooks and my husband places his wallet in the basket. You can use the marker board as a shopping list or somewhere to jot down reminders that you can see on your way out the door! It's time to declutter your kitchen counters and buy this handy product! 
If you have a small pantry like me, you have to maximize every inch of space that you have. These over-the-door organizers are the perfect size (even for narrow doors), the hooks are sturdy, and I love that the pockets are clear and you can easily see what you're grabbing. Also, did I mention that they come in a pack of two? SCORE! What I love most about this product, is that you can use them all over your home. I have one hanging on the back of my bedroom closet for storing shoes (belts, hats, or jewelry would work too) and I have another one in my bathroom for storing toiletries. If you have a baby, these would be great for storing socks, onesies, and other small baby items. I have even seen people store Legos in them! If you have minimal storage space these are a must-buy! 
If you have little ones at home, say goodbye to the days of bath toys scattered in the bathtub growing mildew on them! I am obsessed with this toy storage basket after trying several other hanging storage baskets, but the suction cups would never hold. This over-the-tub basket holds a lot of toys, it's expandable to fit the size of your tub, it's easy to clean (just spray it off with some bleach), and my kids have fun with it – they like to use it as a bridge for their toy boats to go under. It also has multiple functions, so even if you don't have children it can still be useful. You can store your shampoo, body wash, and other bathing products in it. This little contraption has worked out perfectly for my family! 
I found these drawer organizers when I was pregnant as I was looking for a solution for neatly storing tiny baby clothes. Rolling up the onesies and sticking them in the organizers, I maximized drawer space. I ended up loving them so much that I bought a set for my dresser drawers! They are great for storing underwear, bras, socks, and other lightweight items. They are also great for storing t-shirts (hello, KonMari fold!). They definitely have sparked joy in my home! Ha! They are durable (not flimsy), and they fit perfectly in my drawers. I prefer them over traditional wooden drawer dividers. They are basic but super functional! 
Before purchasing these adorable metal storage containers, I would store my sugar, tea bags, and coffee grounds in the pantry in the bag (or box) they came in. It was super inconvenient since my coffee pot is on the other side of the kitchen, not to mention, it wasn't the most visually appealing way to store these items that I use on a daily basis. I love how these canisters look in my little coffee area, and it's SO much easier to make my cup of coffee in the morning. Also, I have the matching Bread Box to go with them, which I love! I've received so many compliments on both! These would truly make the perfect Christmas or housewarming gift! These are definitely worth displaying on your coffee bar! 
With having a big family and children, we frequently have company in our home. Whether we are hosting a birthday party or a family bbq, this cutlery storage caddy has come in handy! It's convenient to have somewhere to store all your cutlery and napkins rather than having them spread all over a table. It is lightweight, holds a lot of cutleries, and it can easily be moved around the table and refilled. What's really great is that between family gatherings, you can use it to store markers, crayons, and other art supplies for your kids. Do yourself a favor and buy this! 
Let's be honest, where are your bathing products in your shower right now? Are they sitting on the ledge just waiting to be knocked over? If so, this hanging shower storage caddy may be your solution! The caddies that hang on the shower head did not fit properly, and the ones with the suction cups were not working either! This one is not too bulky, it can hold a decent amount of products, and it's incredibly sturdy. I am also shocked that it hasn't rusted and I have had it for 3 years! One of my favorite features is the hooks – I hang my razor, loofa, and ponytail bands on them. I have no complaints; this thing is awesome! 
Are there any organization products that you absolutely love? I am always up for trying new things! Let me know in the comments! 
PIN IT to remember it! 

Wishing you a wonderful holiday season! Happy shopping!
💙, 
Nicole 
By: Nicole Ramer, SMM~C
(Professional Organizer & Certified Senior Move Manager®)
Share this with a friend!