Share this with a friend!
Is "organize the garage" always on your to-do list? Here are some simple tips on how to maximize the space in your garage and organize it in a way that will allow you to park your car in it…FINALLY!
Are you parking your car in the driveway to bake in the sun and allowing the birds to use your ride as a toilet? Don't let nature destroy your paint job!
There is absolutely no legitimate reason as to why you have not parked your car in your garage since 2006. No room? No problem! There are simple solutions to turn your garage into a great space that has plenty of room for a car (or two).
WHERE IN THE WORLD DO I START?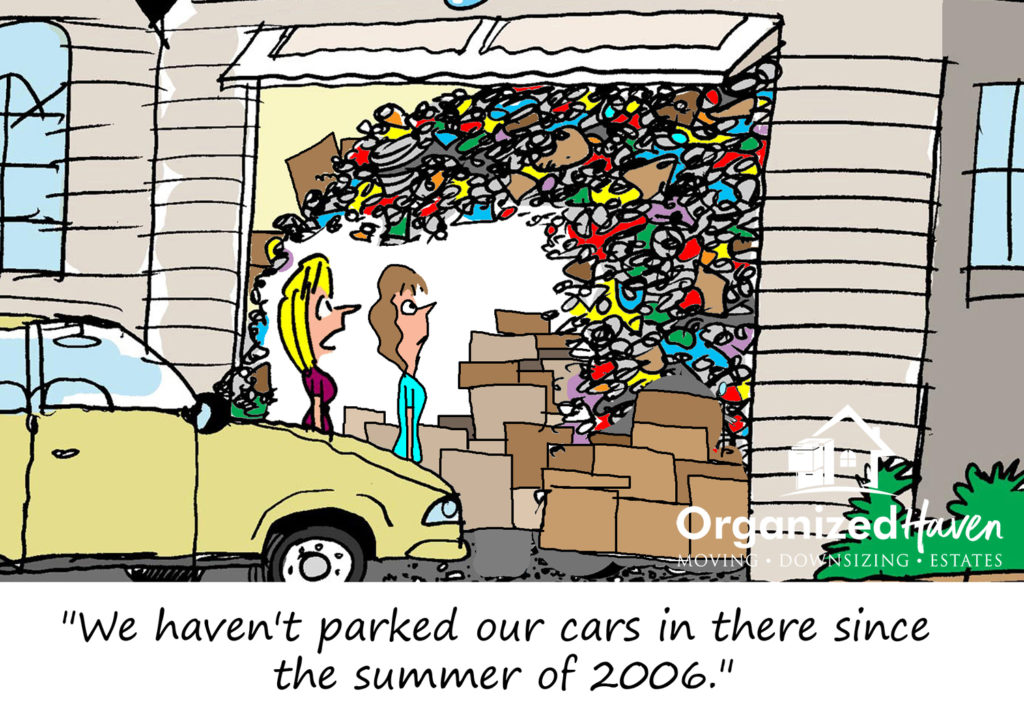 MAKE IT A FAMILY AFFAIR
In order to thoroughly organize your garage, it will likely take more than an hour or two. However, the more people that are involved in the process, the quicker it's going to get done.
Make it a family affair! Round up your spouse, kids, and maybe even a friend or neighbor that owes you a favor. IT'S ALL HANDS ON DECK!
Organizing doesn't have to be a drag — make it fun! Play some music to get everyone motivated. You can also do a scavenger hunt — whoever completes the greatest amount of tasks gets ice cream.
STOCK UP ON THE NECESSITIES
Make sure you have the following items available to ensure you have a smooth and productive day:
Drinks and snacks
Heavy-duty trash bags
Bluetooth speaker (for music)
Bug repellent
Sunscreen (if your organizing overflows into the driveway or yard)
PURCHASE STORAGE PRODUCTS
There are so many fantastic storage products on the market these days. Just remember, the goal is to keep as much off the garage floor as possible. Here are a few products that you should consider purchasing:
Clear plastic storage bins. These are fantastic for storing holiday decor, sports equipment, clothing, etc.
A lockable cabinet for hazardous or dangerous supplies that you don't want your children to have access to.
Clear jars with lids for storing nails, screws, and other small items.
A label maker — although this isn't a necessity (you can also label your boxes with scotch tape and a sharpie), it definitely will make your labels look neater and no one will ever have to decipher illegible handwriting.
Shelving so you can see what's being stored. Too many cabinets with doors can encourage disorganization.
Pegboards and hooks for hanging lightweight hand tools.
CREATE A KEEP, DONATE, AND TOSS PILE
One of the first steps in organizing your garage is deciding what you will keep, donate, and toss.
Keep
Obviously, the items that you use on a daily and weekly basis, you will want to keep (lawn equipment, recreational equipment, etc).
However, keep in mind, if you have not used some of these items in the past year or more, please consider selling or donating them.
Donate
Clothing, shoes, home and holiday decor, furniture, and sports equipment are all fantastic items to donate. These are all items that could be of great use to another individual or family.
There are many reputable charities that accept donations, and many of them offer free donation pickup.
Toss
Any item that you have kept and have no idea why needs to go! Some of the items I am referring to are:
Spare parts
Old clothes and shoes that are in no condition to donate
Damaged holiday decorations
Items that are missing pieces to it
Empty boxes (please, recycle!)
Old rags (saving a couple is fine, but 20? TOSS THEM!)
**Please make sure you are properly disposing of paint and chemicals!
ASSIGN YOUR THINGS A HOME IN THE GARAGE
Items that you use together, should be stored together. For example, lawn and gardening tools and lawn chemicals, car washing supplies, and paint supplies should be stored together.
Place frequently used items close to the garage door for easy access, and place rarely used items like holiday decor in the back of the garage.
Place bulky items like lawnmowers in an area where there is plenty of space — you certainly do not want to risk your car being scratched.
CREATE A CHARGING STATION
Different DIY projects are going to require different types of tools. If you have multiple power tools and batteries, you may want to consider creating a charging station in your garage.
If you prefer to build a charging station from scratch, there are many tutorials that you can find online, however, if you aren't incredibly handy, you can purchase charging stations at stores like Lowe's, Home Depot, and Amazon.
Just a reminder — your charging station doesn't have to be elaborate in order to be functional. Keeping all of your parts together and easily accessible should be your main goal, and if that means just adding a power strip and a few hooks to the wall, then so be it.
SO, YOU'VE ORGANIZED YOUR GARAGE, NOW WHAT?
Benjamin Franklin once said, "A place for everything, everything in its place", which is a principle that applies to every person and every home.
Whether you want to accept it or not, every space in your home has a particular function.
The key to keeping any space organized is to put things away when you are done. You worked so hard to organize your garage, so keep it that way!
My advice: at least once a year, sort through your belongings and donate or toss what you aren't using.
And most importantly, STOP USING YOUR GARAGE AS A DUMPING GROUND!
With that all being said, it's now time to drive your car into your spacious garage! 🙂
**Don't forget to take a before and after picture!
Do you have any additional tips to get (and keep) your garage organized?
PIN IT to remember it!
Happy organizing!
💙,
Karlie
Guest Post:
By: Karlie Holliday – Owner of helloCreate
Share this with a friend!