Share this with a friend!
Now is the time to get your home organized for summer break so you can spend less time cleaning up messes (and possibly acting crazy) and spend more time having fun with your kids! 
In the words of Alice Cooper…"School's out for summer!"
Although summertime can be a lot of fun, filled with pool parties, sleepovers, camps, and vacations, it can also wreak havoc on your home! Having the kids at home during the day means more laundry, meals, company, and overall activity. With so much going on, it's easy for organizational chaos to ensue. 
**Some of the links below are affiliate links. This means that, at zero cost to you, I will earn an affiliate commission if you click through the link and finalize a purchase.
BEGIN WITH A GREAT PURGE
In order to have a manageable and functional home you should start by purging the items that you are no longer using. Since your kids are out of school, have them lend you a hand! Assign each family member an area of the home (starting with their bedrooms) and have them pick out the items that are no longer in use. 
If this method doesn't prove successful, see if focusing on the items they wish to keep instead provides better results. Choosing their favorite things will almost certainly be more fun for them than giving up anything!
If you need help deciding which items to keep, donate, toss, or sell, read our blog post here. 
Once you have everything cleared out, it's time to put your organizational systems into place.
CREATE A SUMMER CALENDAR
Kids tend to thrive on structure and predictability, and creating a summer calendar that lists their social events, activities, and daily chores may be the ticket! It will give them the structure they need to stay on track and hopefully it will make the home run more smoothly and will stay clean and organized. 
Place the calendar in a location where the whole family can easily see it and add to it when needed. I am a fan of the magnetic calendars that you can place on your refrigerator.
RESERVE A CABINET OR DRAWER AND STOCK IT WITH SUMMER ESSENTIALS
When you are doing your purge, reserve a cabinet or storage bin and stock it with summer essentials. Having it outdoors on the patio or by the pool would be ideal, but the garage or somewhere near the back door will work too. Stock it with bug spray, sunscreen, beach towels, sunglasses, hats, pool toys, etc. This will eliminate having to search all over the house for these items. Make sure you return all of these items to this spot after using them! This, of course, is the most important thing to do all throughout the year to keep your home organized, not just during summer break.
CREATE A CRAFT/ART CLOSET CART
Creating a closet or cart with craft and art supplies is definitely a great storage solution – however, you will have to set some guidelines before letting them have free reign. Having these supplies accessible in a designated home in which they are responsible for keeping organized will teach them responsibility. They will learn to only take what they need/want, and it will help them plan their activities knowing that they are responsible for putting everything back when they are done.
CREATE A READING NOOK/CORNER
Not only will a reading nook/corner keep all of your kids books in one location, but hopefully, it will encourage them to read since all of the books are in the same place and are easily accessible. You can even switch out the books according to the season. 
Here is a picture of my daughter, Kinsley's reading corner in her room.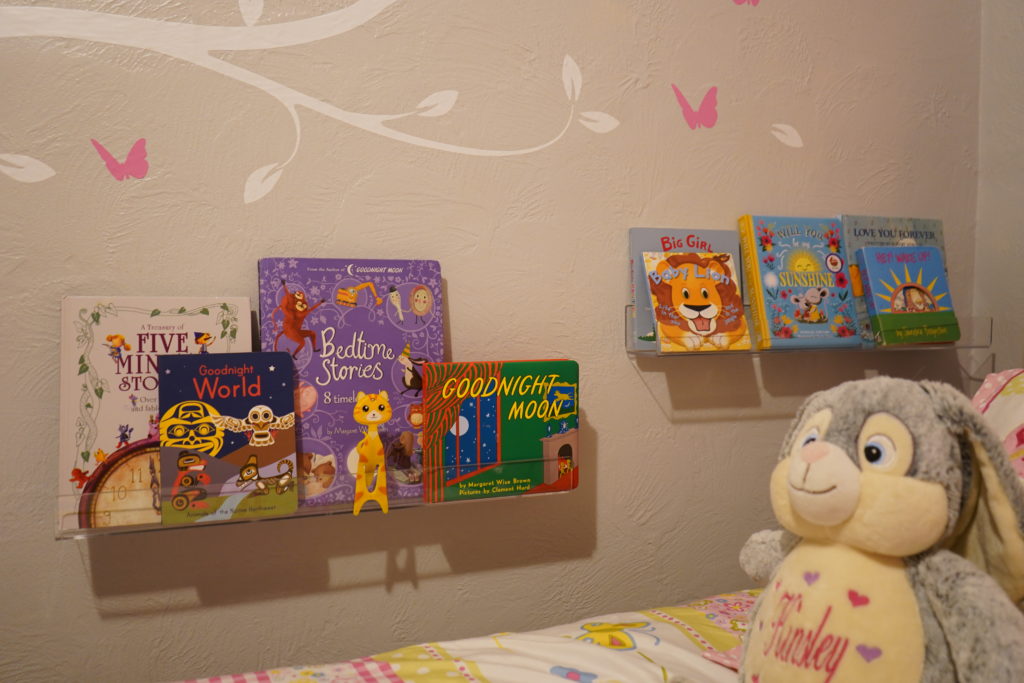 These shelves were super easy to install (thanks, Danny!) What I love about these floating shelves are that they can be installed anywhere and take up almost no space. We have them on several walls throughout Kinsley's room, little Danny's room and the hallway. They replaced a small bookcase in the hallway between their rooms that took up too much space. We read together every night before bed during the school year and will undoubtedly spend more time reading during the summer break.
PUT TOGETHER A SNACK SPACE IN THE REFRIGERATOR AND PANTRY
My kids are snacking machines! They are growing like crazy and are always hungry! However, it's important to set some limits for health reasons and to keep your kitchen organized. 
Place some containers or baskets on the lower level of your refrigerator and pantry with healthy and easy-to-grab snacks. Your kids will know exactly what they can have and there will be no need to rummage.
In your fridge: sliced fruit and veggies, yogurt pouches, cheese sticks, etc. In your pantry: granola bars, fruit snacks, fruit pouches, nuts, crackers, etc. You will then restock them at the end or beginning of each week. 
We do our grocery shopping on Instacart every Sunday. Danny and I do this together – I sit at my home office computer adding things to our cart as Danny goes through the fridge and pantry confirming whether we have the ingredients for our meal plan. As business owners and parents of young children (10 and 2), this saves us so much time. We are happy to pay someone else to do the grocery run for us and we almost never forget anything! This also helps ensure we don't buy things we already have at home, ultimately ensuring we don't overstock our fridge and pantry!
CREATE A DROP ZONE
This may be my favorite organization solution for the summer and that is to create a drop zone. If you already have a mud room, problem solved, but if you don't, a laundry basket or large bin by the entryway will work just fine. 
This designated drop zone will be where wet bathing suits & towels, muddy shoes, and sports equipment will be placed after coming in rather than it being scattered throughout the house. This should be emptied at the end of each day.
Home organization is so much easier when everyone works together, and who knows, some of these solutions may be even fun for the kids!
Let us know if you have any additional summer organization solutions or if you were able to implement any of these solutions in your home to get your home organized for summer break.
PIN IT to remember it!
Have a great summer and happy organizing!
💙,
Nicole
By: Nicole Ramer, CPO®, SMM~C®
(Certified Professional Organizer® & Certified Senior Move Manager®)
© 2022 Organized Haven. All rights reserved.
Share this with a friend!