Share this with a friend!
A safe haven is an organized haven, as organization is key for a senior to thrive wherever it is they call home. Clutter is known to have negative effects on the psyche of any person, but clutter also happens to be a significant safety hazard for a senior who might have mobility difficulties, vision problems or dementia. 
It is important that older adults especially begin to think about the things they keep in their home and how they access all spaces.
Whether planning to stay in the home or needing to eventually move to a smaller space, there is a need for thoughtful consideration and organization of the contents within to ensure a senior's safety, ease of transition and peace of mind. 
This blog post will provide insight to identify when there is a need for organizing and downsizing support.
You'll learn some ways to approach seniors and their families needing help and you'll be equipped with the resources needed to find professional support for downsizing, moving and/or aging-in-place in any city or town in the U.S. and beyond.
THE ACCUMULATION OF A LIFETIME OF THINGS
It takes a long time to accumulate the average household worth of stuff. I've read several places over the years, including from my friend and colleague, Regina Lark, CPO®, that there are 300,000 items in the average home. 
When you think about the amount of time it took to collect these things, it naturally makes you feel overwhelmed by how long it might take to downsize your collection of:
Clothes – for multiple people, styles, sizes and seasons

Furniture

Kitchen goods

Books

Paper and greeting cards

Photos and memorabilia

Tools

Tchotchkes

Old electronics

CDs / DVDs / record albums

Wall art and other decor

Seasonal decorations

Vintage and antique collectibles

And on and on…
With frequent editing and well-maintained organization, these collections can be minimized over time and not feel like a freight train coming at you all at once in later-life. 
Those who haven't made a conscious effort to keep all of their categories of things in order and at bay through all stages of life tend to have a more challenging downsize on their hands.
What sometimes makes it especially difficult is a short timeline due to unforeseen circumstances, such as a loss of spouse or a decline in health. 
This is why I always recommend letting go of two things when you bring one new thing into your home.
Downsizing over time in this way helps to keep clutter at bay.
THE BARRIERS TO LETTING GO
Ask anyone who has been through this process and they will tell you – the decision-making process when letting go of a lifetime of accumulations is excruciating…
The keep pile tends to be the largest the first go-round of touching and deciding upon each individual item.
This process has to happen when downsizing from 3000 sq. ft. to under 1000!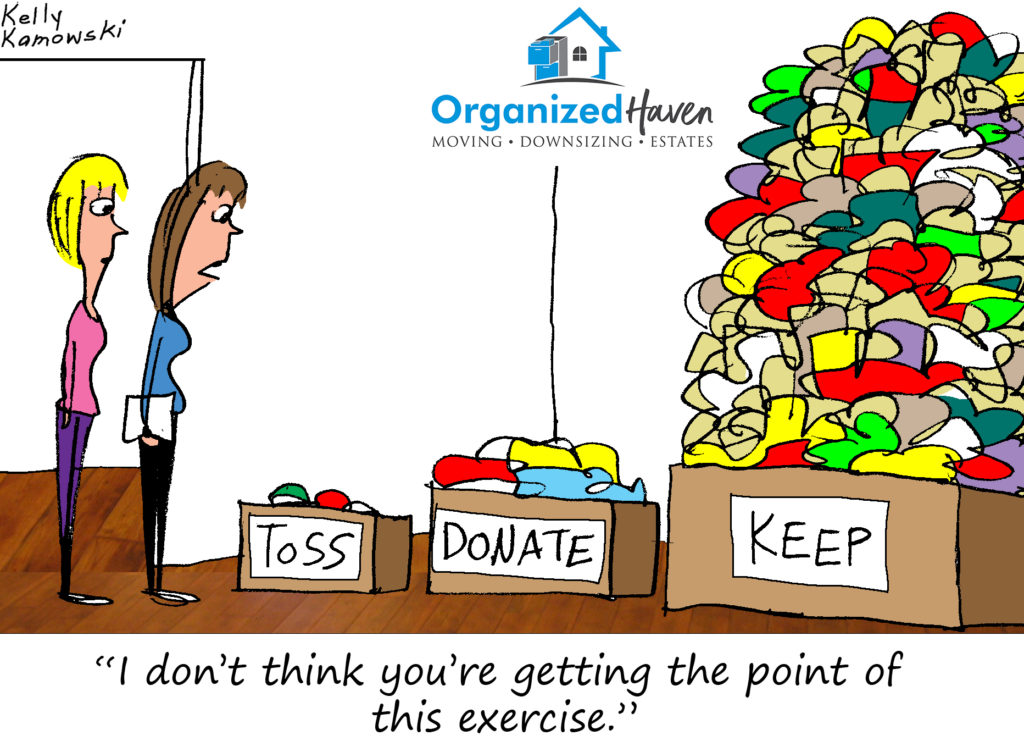 It is an emotional journey – touching everything you've collected in a lifetime.
Things are discovered after culling through decades of items shoved away inside of a box or in the attic, memories are re-lived and feelings of sadness, angst or worry naturally come flooding over anyone going through this process. 
I've written about and presented  The Barriers to Letting Go of Stuff and shared the psychological and emotional barriers that stand in our way.
As a summary, here are the eight voices one might hear in their head when trying to determine what to do with any given item:
SUNK COST

– "I paid good money for this."

RECOUP THE COST

– "I could sell this." or "This is worth something."

GUILT

– "I'd feel too guilty to let go of this."

PURPOSELESS PRACTICALITY

– "This is still good."

FUTURE FEAR

– "I might need this someday."

SENTIMENTALITY

– "It reminds me of a time," or "It reminds me of someone," or "I wouldn't want to forget."

PERCEIVED VALUE TO SOMEONE ELSE

– "I could give this as a gift" or "I want this to go to someone who will appreciate it" or "My kids will want this."

WANT TO DISPOSE OF IT SAFELY OR SMARTLY

– "I don't know how to get rid of this safely, so I'll just hold onto it."
These voices in our heads tell us to keep the item and leads to poor decision-making, delayed decisions and higher costs when downsizing and moving. 
It can be helpful to have an accountability partner, an outside source be the one to touch the item and help you consider if it is important to keep.
Someone not emotionally tied to anything you might find in your home as you go through the downsizing process.
There is something about touching an item that makes it more likely a person will keep it.
If someone else is physically handling the item and your responsibility is to respond with if you will ever use it/wear it/love it again, the keep pile might be more manageable next time around. 
SENIOR SAFETY AND ORGANIZATION
Sometimes we find that a senior living in a large home is confined to one or two rooms of the house.
For them, it is easier to have everything they need right there by their living room chair as they would otherwise need to stay on their feet for longer periods of time. 
This tends to lead to clutter on all surrounding flat surface areas. Clutter commonly causes anxiety and depression – with any person.
For an older-adult who might have limited mobility, vision problems, dementia or other aging difficulties, it becomes a significant safety hazard and limits the ability for the senior to age-in-place and remain independent.
It's therefore even more important for a senior and their loved ones to start thinking about the things they have in their home and making sure they are only the things that support them in their current stage of life.
Only the most loved and used items should remain in their space after thoughtful consideration is taken and everything else goes.
This would result in a senior being less likely to suffer from a clutter-related fall, feel more clear-headed and have more of a sense of independence and happiness.
A safe haven is an organized haven.
"Safety doesn't happen by accident." ~Unknown author
HOW TO KNOW WHEN A SENIOR NEEDS ORGANIZING HELP
If you work with older adults and have frequent conversations with them and their loved ones, you can usually spot the signs of a need for help with organization. 
Here are some statements that you may hear from a senior or their family members that would be indicative of a need for organizing/downsizing help:
"I just can't find it."

"It would take me years to downsize and be able to move."

"I am constantly missing appointments."

"I forgot to pay my _____ bill."

"I have to sell this house before I can afford to move."

"I'm saving this _____ for my kids."

"I'll just deal with the stuff after I move."

"She fell again."

"She saved EVERYTHING."
It can feel uncomfortable to approach someone you care about with household maintenance or organizing advice.
You don't want this person to feel less of themselves or their ability to maintain an organized space, but you want them to be happy, healthy and independent, especially if they are a senior aging-in-place or planning a move. 
For this reason, I recommend having an honest conversation with them about their home goals and providing them with resources to help them reach those goals.
Let them know that a safe haven is an organized haven. 
WHERE TO GO TO FIND ORGANIZING, DOWNSIZING AND SENIOR MOVING SUPPORT
Luckily, there are organizing professionals who specialize in working with seniors.
Some, like the Organized Haven team, also specialize in downsizing and move management. 
As members of the National Association of Productivity & Organizing Professionals (NAPO) and the National Association of Senior & Specialty Move Managers (NASMM), we take pride in the education and training we receive from these two leading associations that allow us to provide A+, Best of the Best service to our seniors downsizing a lifetime of accumulations.
You can find a NAPO member near you at www.napo.net and a NASMM member near you at www.nasmm.org.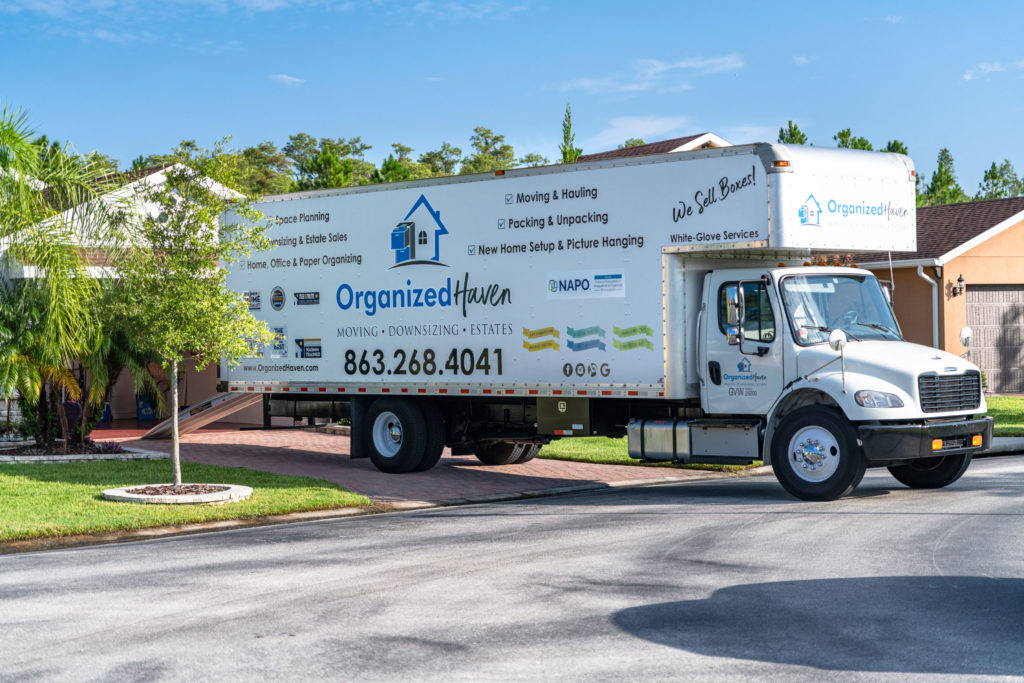 Non-association professionals such as other professional organizers, movers, estate sellers, etc. might also claim to specialize in serving seniors or downsizing.
We all have a goal to help someone get organized, move, or deal with the stuff in their homes.
If a Google search or acquaintance leads you to one such service provider, be sure to ask them HOW they specialize in serving this need. Look for a company who:
Is properly licensed, insured and bonded (ask for certificate of insurance)

Has professional packing training and experience

Understands how to work with those with dementia or cognitive decline (and has credentials to back that up)

Is available for frequent communication for home or move management

Has positive reviews online by prior clients and community partners

Shares expert resources and guides for downsizing and getting organized

Is highly recommended by multiple community organizations and sources

Has numerous internal resources and service offerings that simplify things
THE COST OF PROFESSIONAL ORGANIZING AND SENIOR MOVE MANAGEMENT® SERVICES
Truth be told, the cost for full-service downsizing and move management can make someone feel like it is a "luxury expense."
I hear from our clients all the time – we even have written reviews with these words, "They are expensive, but worth every penny." 
While I don't know what others charge (we discourage practices that can result in price fixing,) I do not consider this service one that only high net-worth individuals have access to.
Sure, our services are easier to afford when one has cash reserves and other assets.
Those on social security only, or those living paycheck to paycheck would certainly have a more difficult time paying for anything in addition to their normal daily living expenses.
And the cost of living is significantly higher today than even this time last year. 
I consider our services affordable, but we need more senior living communities to offer financial incentives for move-ins, realtors to pay for expert downsizing and moving support, and other senior-serving professionals to share the value of our services to the seniors and families they work with. 
Too many of them are focused on the cost of our services vs. the benefits of getting our support.
Someone recently told me that it isn't a matter of our community not being able to afford hiring Organized Haven for downsizing, organizing and moving help, but instead, the people in our community with this need CAN'T AFFORD NOT TO HIRE US. 
Too much is at stake when hiring a traditional mover for such move (resulting in chaos,) hiring someone to make the house look pretty (it never lasts,) or letting the realtor stage the house by putting all the personal stuff in storage temporarily (delayed decisions and talk about outrageous costs!)
Those are just a few examples of what goes wrong when a Senior Move Manager® isn't involved.
Do you know a senior or family who could use some organizing or downsizing support?
A Safe Haven is an Organized Haven. We'd love to help create it!
Contact us for help here: www.organizedhaven.com/contact
PIN IT to remember it!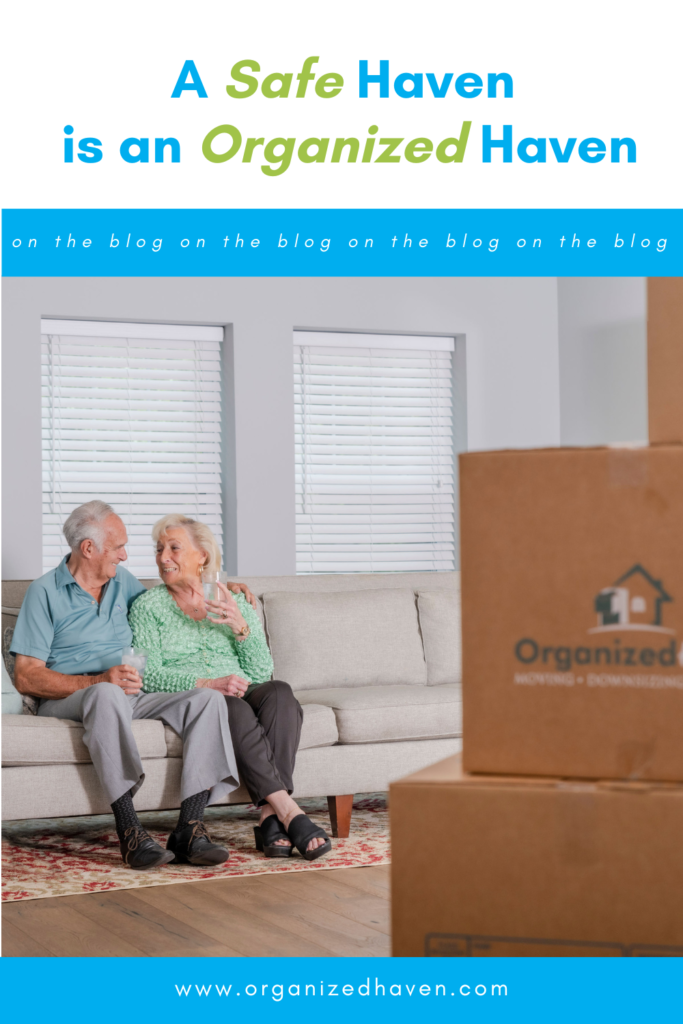 Here's to creating a safe and Organized Haven!
💙, 
Nicole 
By: Nicole Ramer, CPO®, SMM~C®
(Certified Professional Organizer® & Certified Senior Move Manager®)
© 2023 Organized Haven. All rights reserved.
Share this with a friend!