Share this with a friend!
As we complete the first week of a new year, the clock is already ticking on the accomplishment of our goals and resolutions. Have you made your wish list of organizing projects yet? I say "wish list" because we all know how hard it is to meet our new year's resolutions AND how easy it is to still have unfinished projects at the end of the year! 
What are you going to do differently this year to accomplish all your goals as it relates to home keeping and organization? Like you, I too have struggled as a busy professional in the household management department. Work-life is just so consuming! When you spend your entire day at work and have small kids to take care of at home, it is easy for things at home to pile up and organizing projects to go undone. I have lived this struggle for 9 years. This year, I'm making a change and getting my house in order! Read on if you'd like to join me in 52 Weeks of Home Organizing Projects!
PROJECT CHECKLISTS AND WORKING FROM HOME
I am a person who thrives on checklists! Having my daily/weekly/monthly schedule of activities written down is what has helped me to be successful in my business. If not for Organized Haven's checklists and procedures, my team would not have the right resources or knowledge to complete a project accurately and efficiently, if at all. 
2021 was a year in which I built my administrative team and found myself struggling to have everything I needed all of the time. Other than the time in 2020 in which we were under stay-at-home orders and we closed down our Winter Haven office, I've always had two offices: one at home, and one at work. 
It became increasingly difficult over the years to ensure I had everything I needed, at all times. All it took was for one note to be at home while I was at the office and there went my ability to accomplish an important task. Now, working from home full-time, I am able to have access to everything I need at all times of the day.
I'm telling you all of this because these last few months have been challenging to focus sufficient time on my work projects and my home organizing projects. While I'm in my home-office, I have the full site of my family room and part of my kitchen. I have a 2-year-old and a 9-year-old (and a 43-year-old)! 😂 In my home, there is constant pick-up! If you work from home and have a young family, you know exactly what I'm talking about! It is hard to focus on work when you have messes to clean. 
It's also hard to focus on your home when you are a business owner or have a demanding work-from-home job. Work is 24/7 and is constantly calling your name from your home office. My mind is always brewing with ideas and creative solutions with the work I do. So, in my life, my work distractions are more prevalent than my home distractions, even with a 2-year-old! For me, that has caused organizing projects in my own home to lack my attention. 
A WEEKLY ORGANIZING PROJECT SCHEDULE
Knowing how essential checklists have been for the success of my organizing and downsizing business, it only makes sense how a checklist may help me dedicate time to organizing projects in my own home. 
A checklist for that and more is what I found in Passionate Penny Pincher's 2022 Home Planner: a daily checklist for your home, family & finances. I'm not going to spend time covering the whole planner in this blog post. This reference to Laurie's product is simply my way of sharing with you what inspired me to make the effort of completing one "big" weekly project. 
Follow the Organized Haven Facebook page for each week's organizing project and follow along with me as I make the effort in my own home! I will not be sharing the full 52-week project list in advance. If you'd like to have the list before we get started, or if you'd like to get the benefit her actual planner provides, use the link above to purchase your very own planner from Laurie. If you want to change your home in 2022, I highly recommend it! I receive no referral fees from your purchase. I simply believe in this product.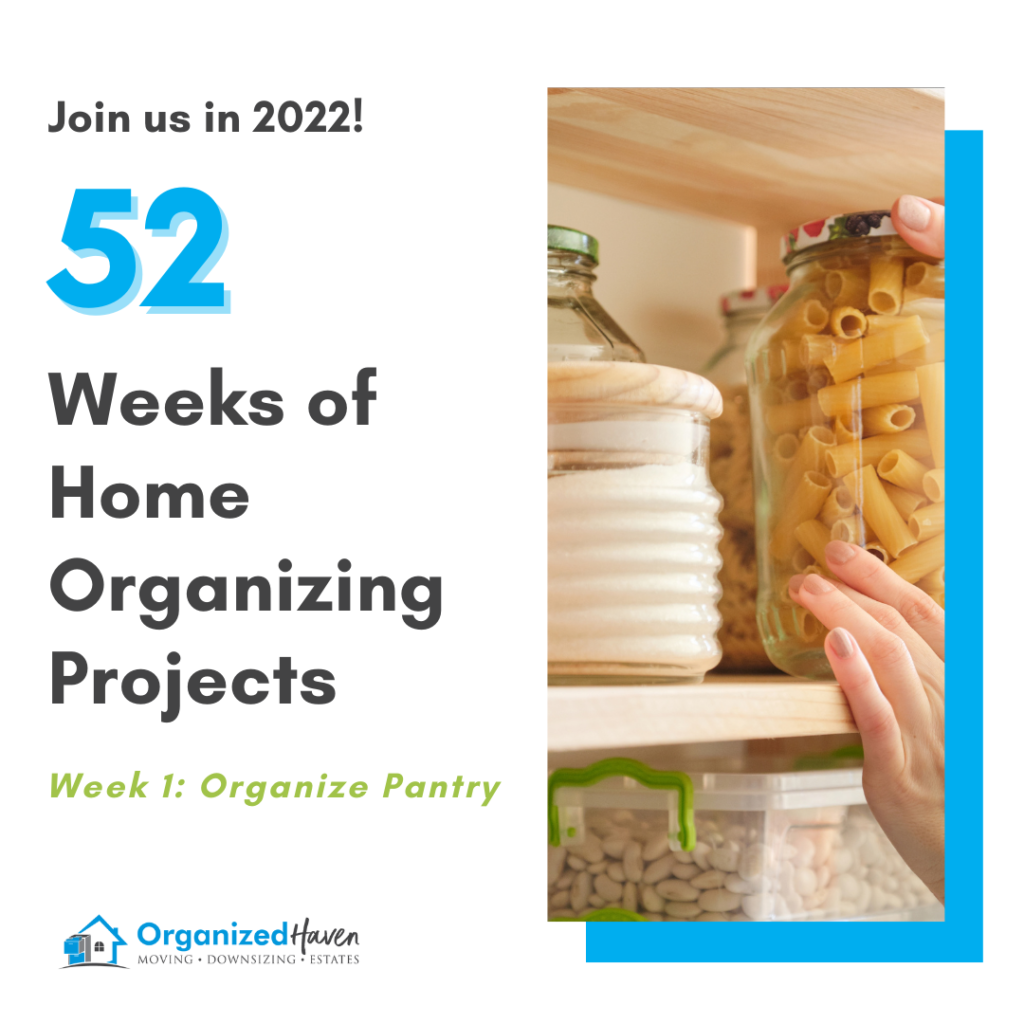 THE FIRST ORGANIZING PROJECT: THE PANTRY
*Some of the links below are affiliate links. This means that, at zero cost to you, I will earn an affiliate commission if you click through the link and finalize a purchase.
The first organizing project is the pantry! I organize my pantry once every few months, and every time, I'm aggravated by the number of cardboard boxes and misplaced items there are. So, while I normally don't recommend buying organizing solutions in advance of sorting and decluttering, I know what I need to remove the cardboard and create standard homes for my pantry items:
I will have my products delivered by Saturday and will be sharing my before and after pictures over the weekend on our Facebook page. Want to join me and organize your pantry this week? If so, follow the 10-step approach below.
PANTRY ORGANIZING STEP-BY-STEP
Grab a table and pull out EVERYTHING from your pantry. But before you do, take a picture! It can be hard to remember how your space was "before" it was organized. You'll thank me when you are so excited to take your "after" picture! My pantry is actually a wardrobe / TV cabinet. My house doesn't have a built-in pantry, but my kitchen had enough room to put this cabinet in it, and it works perfectly for my family!

Clean the shelves! Guaranteed, there are crumbs, sticky residues, and dust on your shelves/floor. No organizing project is complete without making sure the space is clean!

Install whatever organizing products you have or purchased for this project. For me, all I need are the items above, but you may need others depending on your kitchen/pantry set up. Feel free to ask specific questions in the comments section below if you need any advice on what you may need for your pantry organizing project!

Scan your pantry items for any outdated products. Canned goods, spices, and other packaged goods all have an expiration date. Don't take any chances – if it is out-of-date, toss it!

As you touch and confirm each item is within date, do your best to find a home in your pantry for it at that very moment. A touch-it-once approach is always best to get a project completed efficiently. We follow this with our estate sale process to limit the time and cost for our clients and to avoid overthinking and making things more complicated!

While you are tossing outdated items, go ahead and remove all cardboard if you want the most aesthetically pleasing space. Use canisters and other containers for the contents of your boxes and bags: cereals, snacks, candies, sugars, flours, etc.

Continue making decisions that make sense as you place your items back into your pantry, based on the space allowance, the number of items you have in any one category, the height and depth of shelves, and who needs access and easy reach (little kids can have approved snacks in lower-reaching areas.)

Make minor adjustments as needed to be able to enjoy a clutter-free and organized pantry. When you have everything you are keeping returned to the pantry, label your containers so the whole family knows where things go when unpacking the groceries or putting things away. This can be helpful in other areas of your home too, like the bathroom closet. 

Take an "after" photo and enjoy the results, both in beauty and function! 

Take a tour of your new pantry with your family and show them the before and after photos! Get them excited about the ability to more easily maintain an organized pantry and maybe, just maybe, they'll join you on the next organizing project! 
Need more tips on how to get your family members interested and involved in your home organizing projects? Read our blog post, "How to Get Organized When You Don't Know Where to Start."
What are some of your planned organizing projects for 2022? Let me know in the comments!
PIN IT to remember it!
Want more organizing tips or need some help? January at NAPO – The National Association of Productivity and Organizing Professionals – is GO (Get Organized & Be Productive) Month. Follow us on Facebook and Instagram for organizing tips and resources to help you live a more organized and productive life in 2022 and visit NAPO to find a Professional Organizer near you! 
Happy Organizing!
💙, 
Nicole 
By: Nicole Ramer, SMM~C
(Professional Organizer & Certified Senior Move Manager®)
Share this with a friend!