Share this with a friend!
Chaos to Order: Downsizing Your Paper Documents – Part 3 of 3
Part 2 of this 3-part blog series, Create a Strategy to Organize Your Papers, was all about making a plan for where, what and how you will store and maintain organized documents. This series was written as a step-by-step guide for all those who attended my hour-long webinar on the topic.
Part 3 is ready! Follow this guide to Take Action and Tackle Your Paper Clutter!
Be sure to read part one and part two first! In part one, you'll also find the webinar covering all parts that you can watch anytime on-demand.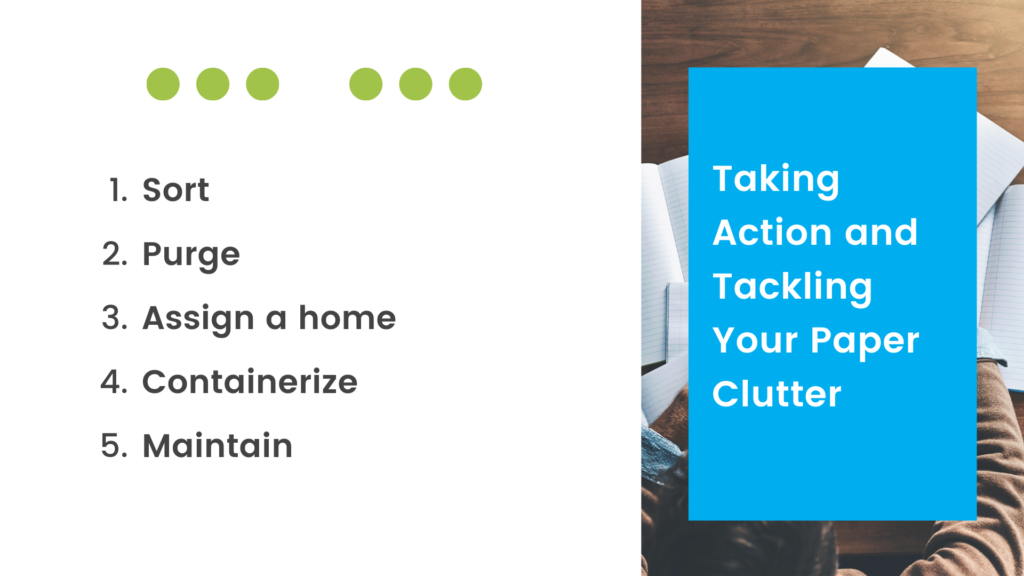 TAKE ACTION AND TACKLE YOUR PAPER CLUTTER
Now that you've planned your zones, arranged your furniture and space for efficiency and estimated the time it will take you to sort and organize your paper documents, it is time to take action! 
Here is how to process the papers currently inspiring chaos in your home:
Sort
Is your current filing system ineffective? Has it been years since you last edited what is in those files? If so, starting from scratch may be much simpler than redoing what you already created.
Purchase a box of 100 manila file folders, a pencil/marker, empty banker's boxes, and your piles of papers.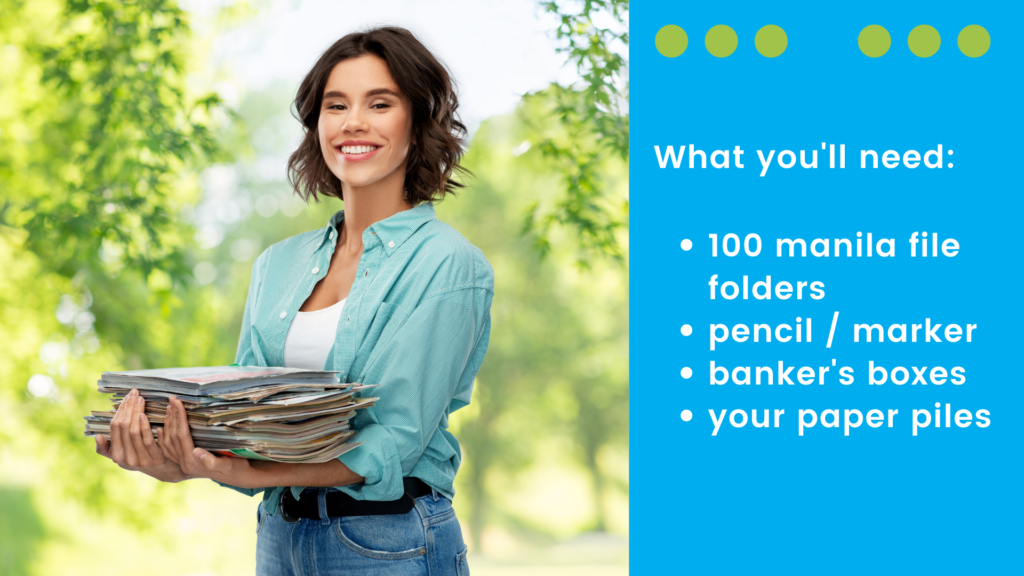 Go through every paper pile. With each individual piece of paper, ask yourself "what is this?", "why am I holding on to it?", and "under what circumstances would I look for it again?"
Write the first word or phrase that enters your mind onto a manila folder, place the paper inside, and move on to the next piece of paper or paper pile. 
Place your completed folders on the floor or in your empty banker's boxes to create the beginning of your brand-new filing system. If you find a piece of paper in one of the piles for which a file already exists in one of your drawers, pull the folder out, file the paper inside, and integrate that old file directly into the new system you're creating. 
Name files in a way that will make sense to you later on:
Keep titles simple and categories broad – the secret to quick retrieval is to have the fewest places to look for a given document.
Title files based on retrieval, not storage – where you would look for something if you needed it again – often that is the subject, not the source.
Use titles to group similar files
Use titles that incite you to action – Create Invoice vs. Invoices to Write, Pay Bills vs. Bills Due, Write Thank-You vs. Letters to Answer.
Use titles that speak to your soul – Rainmaking vs. Business Growth, Wealth vs. Financial Planning, Fascinating People vs. Articles of Interest.
Reevaluate and refine file names to keep your system simple:
File titles – do they make sense, are they active, do they invite you to look inside? Do you have files with duplicate names? Can they be more generalized and less complex? If so, consolidate, pick one title and stick with it.
Thickness of folders – break down thick folders into separate folders – the fewer folders you have to look through to locate a piece of paper the better.
Categories – if you've got too many piles of file folders, chances are you've got too many categories. See if you can group them into much broader categories – three to five, tops. More than that will be too hard to remember and it usually means your system is too complex. Here are some example categories and what to store within each category:
MISCELLANEOUS IS NOWHERE ON THIS LIST!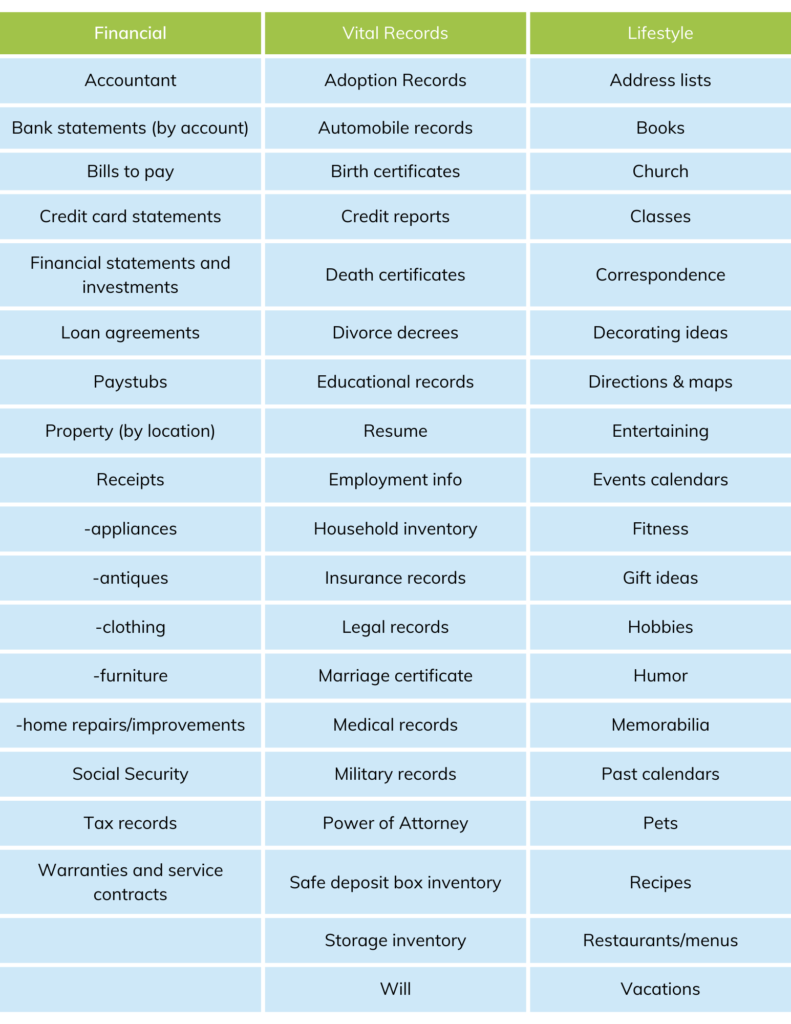 Purge
The most important thing you can do to Take Action and Tackle Your Paper Clutter is purge. There will be a significant amount of papers you can purge to properly fit in the space you've created for the purpose of maintaining an organized space.
You'll find documents with information you already know.
You'll find items that contain outdated information,
Stationary you no longer use – keep your favorites only!
Old receipts and bank statements have likely piled up.
An abundance of notes, schedules and to-do lists are likely in your piles.
Here's a general guide for how long to keep documents: *Consult your CPA, Accountant and/or Attorney for tax advice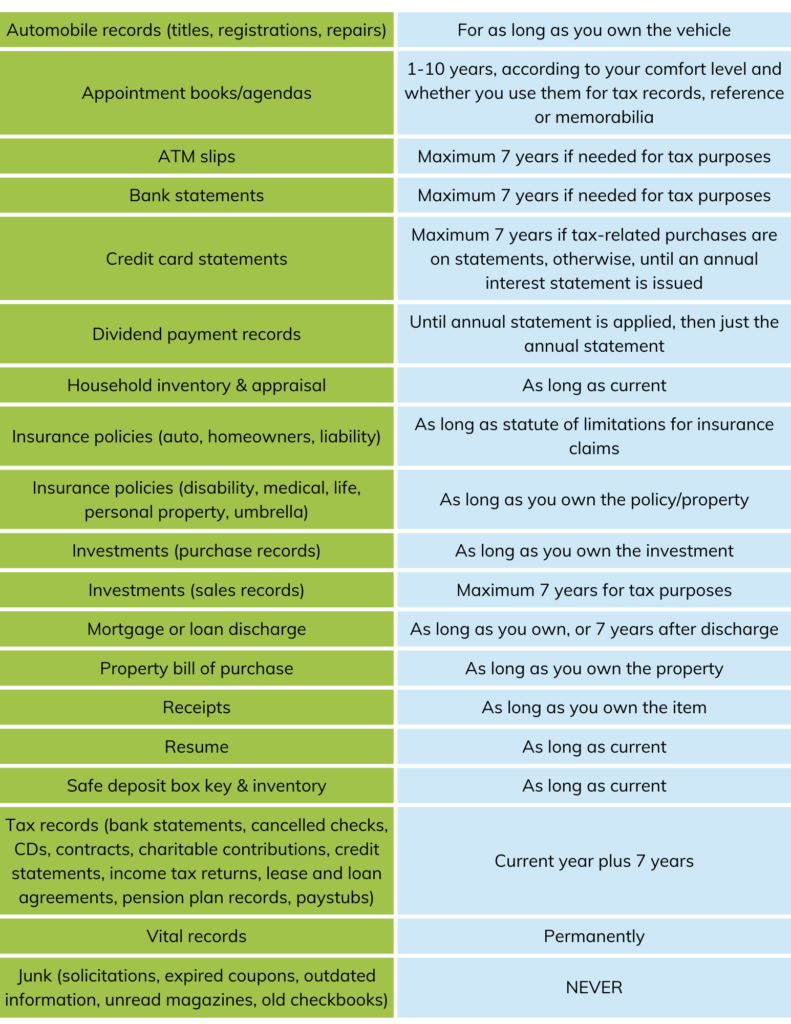 Assign a home
Next, you get to assign a home for all the papers you sorted and kept!
Binders – If you like your papers to be in plain sight, but contained, use binders on a shelf. Tab dividers inside can help to maintain the files in an orderly fashion.
File cabinet – If you will be using a file cabinet, assign each group of papers a specific drawer or section of a drawer. Place the group you use most frequently (for example, "Financial Papers") in the top drawer for convenient access. 
Desk drawer – Utilize a desk drawer for everyday used items, such as sticky notes, page markers, rulers, paper clips, pens, an address book, your label maker, stapler, tape, note pads, 3-hole punch. 
Credenza/closet – Utilize the space in a credenza or closet to store lesser-used items, such as stationary, printer paper, empty file folders and other supplies. 
An inbox – Have a designated location for papers coming into your home that aren't being processed right away. At the very least, you should have an inbox per person that mail or tasks belong to. NEVER put junk mail in your inbox – recycle it right away unless you intend to do research and consider the service/product offering. Bills should have their own personal inbox and processing system.
 
Containerize
Wall trays – Wall trays are excellent for utilizing vertical/wall space and getting things off your desk/work area. E-Z Pocket makes the ones I use.
Bulletin boards – Bulletin boards are old school, but helpful for to-dos and things you want to see in front of you.
Rolling cart – Rolling carts are helpful if you sometimes work at your desk and others while sitting in front of the TV in your living room or bedroom.
Portable file boxes – Portable file boxes are good for the short-term when the project is large or for the long-term when storing. They are also good when there is no space for a file cabinet. They come in cardboard, plastic, rattan, wicker, and galvanized steel and easily fit on a shelf.
Literature sorters/magazine racks – Literature sorters / magazine racks can be used for more than just literature and magazines – I use them for clipboards, page dividers, binder tab sheets and more.
In/out baskets/letter trays – In/out baskets / letter trays – AGAIN, each member of a household should have their own, plus a bill inbox. Choose an attractive option for sorting mail and messages by person in an entryway, on a desk or countertop location. They come in rattan, wood, wicker, mesh, steel, and plastic.
Maintain
If others in your household will be using your system, make sure they understand it. Explain the filing system, where bills should go, etc., so they will be able to find and put items away where they belong too.
If you want to maintain control over the constant influx of household paper, you'll need to create a regular time to process it, just as you would in an office.
Encourage your family's participation by assigning certain household paperwork duties to other family members. One child may sort the daily mail into each person's inbox. Another might be responsible for keeping catalogs current and tossing out old ones.
Daily processing – Set aside 15-30 minutes daily to process mail, make phone calls and handle filing. If you do this daily, clutter won't pile up.
Ongoing maintenance – Schedule 30 minutes weekly to handle finances – paying bills, budgeting, filing statements. Have stamps and envelopes handy at your bill-paying workstation.
Routine tune-ups – Plan to tune-up your paper processing system and work areas at least once per year. Clean out your files. Toss warranties, receipts and instructions for items you no longer own. Place the year's bank statements, receipts and tax records in a 7-year rotating tax file.
New paper enters our homes every day. The junk mail and other solicitations pile up quickly and easily become out of control.
Create a process that works for you and your family. Teach them how to use it and follow-through with the system you create. You'll turn chaos to order and will never have to focus on downsizing your paper documents again!
Are you ready to Take Action and Tackle Your Paper Clutter? Don't worry if you still feel like you need help turning your Chaos to Order and Downsizing Your Paper Documents! Find a Professional Organizer near you at www.napo.net!
Reference: This process of downsizing your paper documents was inspired by content in "the most important organizing book you'll ever read," Organizing from the Inside Out by Julie Morgenstern.

PIN IT to remember it!
Happy paper organizing!
💙, 
Nicole 
By: Nicole Ramer, CPO®, SMM~C®
(Certified Professional Organizer® & Certified Senior Move Manager®)
© 2022 Organized Haven. All rights reserved.
Share this with a friend!