Share this with a friend!
Chaos to Order: Downsizing Your Paper Documents – Part 2 of 3
Part 1 of this 3-part blog series, Chaos to Order: Downsizing Your Paper Documents, was an introduction to setting up a working paper processing system in which you learned to first Analyze Your Current Paper Processing System. This series was written as a step-by-step guide for all those who attended my hour-long webinar on the topic. 
Part 2 is ready! The next step to downsize your paper documents and go from chaos to order is to Create a Strategy to Organize Your Papers. 
Be sure to read part one first! There, you'll also find the webinar covering all parts that you can watch anytime on-demand!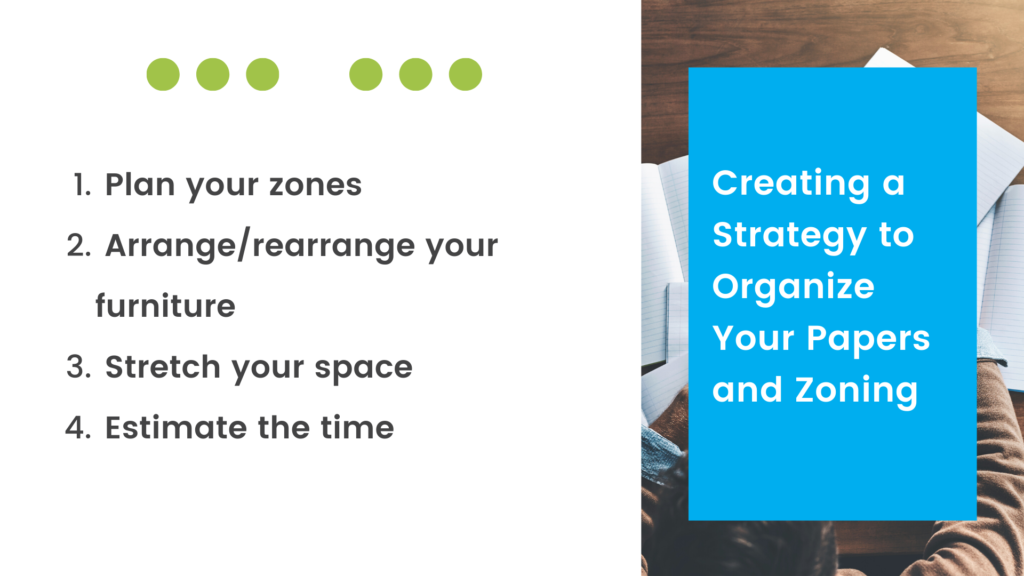 CREATE A STRATEGY TO ORGANIZE YOUR PAPERS
Before you even begin the paper sorting and downsizing process, it is important to make a plan for where, what and how you will store and maintain organized documents.
Know your goal – your why – then create a system to accomplish your goal!
"A good system shortens the road to the goal." ~Orison Sweet Marden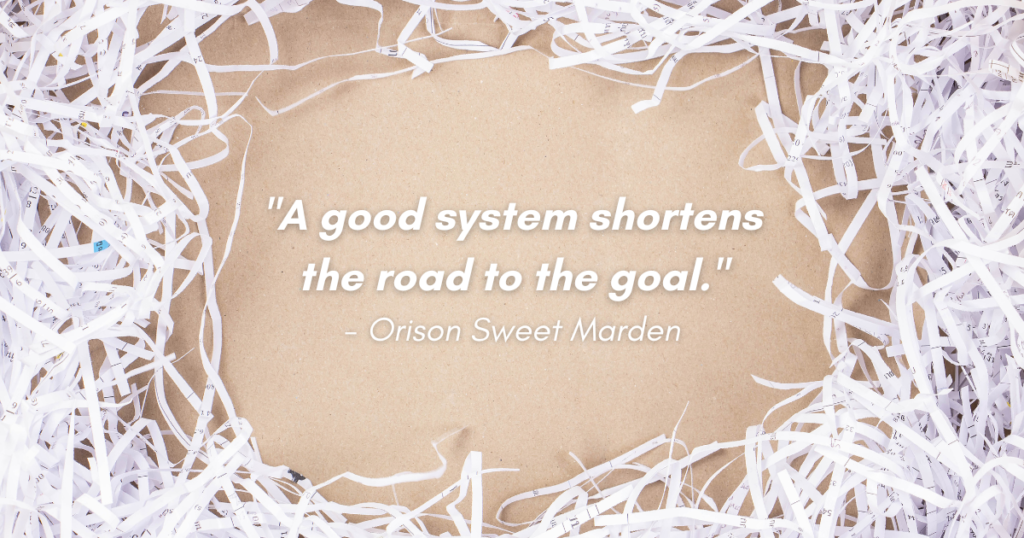 Getting organized is always the goal. Let's get you organized…
Here is what you are going to want to plan and prepare in advance of sorting or downsizing any of your paper documents:
Plan your zones
Establish activity zones/workstations 

Keep often-used supplies at an arm's reach in each zone

Involve the family members who may also use the space
Here are some examples of zones you might create based on the activities you do in the space, the supplies you'll need for each and the storage options that might be best: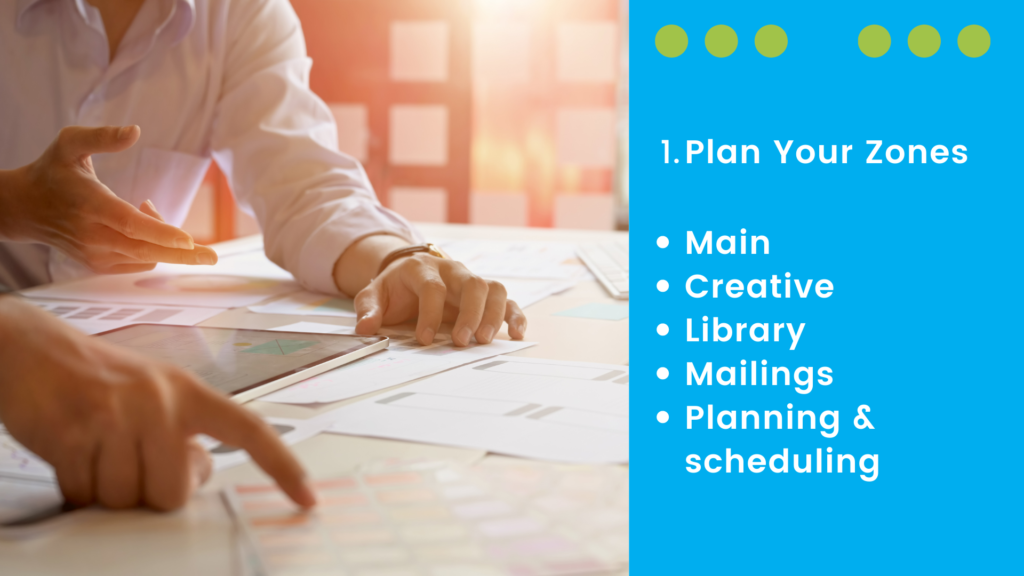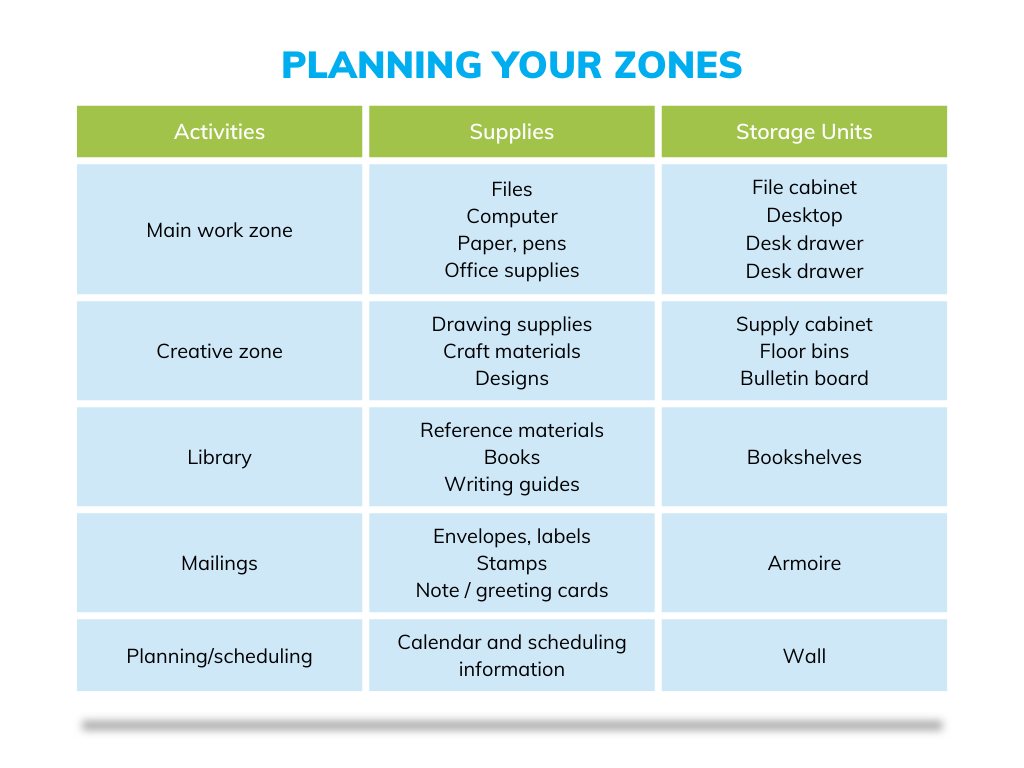 The options are endless and customizable based on your actual space!
Arrange/rearrange your furniture
Next, arrange or rearrange your furniture in a way that makes most efficient use of your space and allows you a view based on the activities performed in each zone.
Here are some things you should consider as you plan it out:
Desk positioning – I like to have my home office desk in the center of the room where I can see out into my front yard, my front patio and door and into my family room. Others might like to have their desk face the wall where they can be distraction free and better focused on the tasks completed there. 
Use "U," "L," "J," or triangular shapes – to achieve maximum storage in minimal space.
Use bookcases – they can store supplies, files, binders, books, etc., and even serve as dividers in dual-purpose rooms.
Allow clearance/space – you'll want to be able to open file cabinet drawers, cabinet doors, etc. and not leave them blocked by other pieces of furniture or boxes of papers.
Stretch your space
Now it is time to think outside of the box (or in this case, above the floor) and find ways to stretch your space! 
Use an all-in-one desktop computer – if a traditional desktop computer and CPU is taking up too much space on your desk or floor.
Store away less-used supplies – in a nearby armoire / credenza / closet to remove them from your immediate work area.
Use vertical space – install wall trays, bulletin boards, floating / standalone shelves, whiteboards, etc.
Place bookshelves back-to-back vs. against a wall – to act as room dividers in a larger, dual-purpose space.
Use the back of the office door – to mount hooks or wall pockets for additional storage.
Use a rolling cart – for convenient access to the items that you can wheel out of the way when not in use, or easily transport to another location when you change your work zone.
Estimate the time
The last step to Create a Strategy to Organize Your Papers is to estimate the time it will take you. 
The time it takes to set up a working home office and paper processing system depends on how much needs to be sorted through and how quickly you make decisions, just like any other area of our home.
Here are some averages I've seen in my career: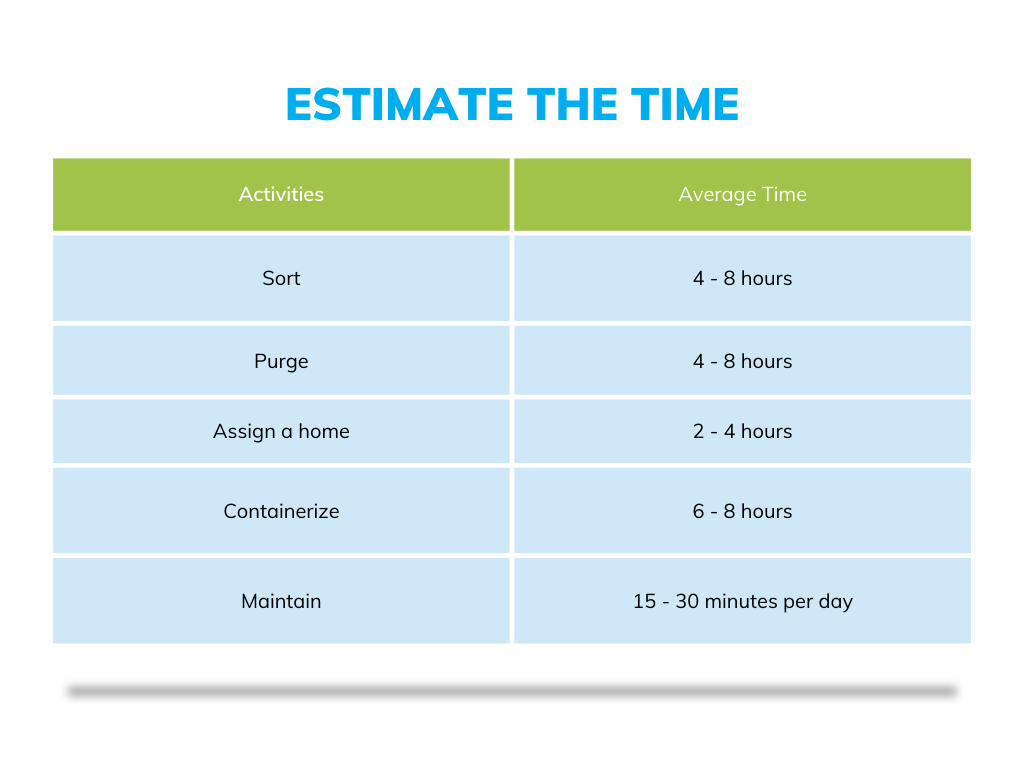 If you set a goal and an expectation for how much time it will take to accomplish it, you will be more likely to hold yourself accountable. 
It's okay if it takes you longer but treat it like an actual job. At work, you strive to excel and exceed expectations, right? Treat this no other way, except you are doing it for YOU!
Know the results you will get from achieving your goal and GET. IT. DONE!
How much time do you think it will take you to tackle your paper clutter? 
one or two days?
several days to a week?
several weeks?
several months?
Let me know in the comments! 
Be realistic with yourself. Give yourself room for error. Give yourself time for breaks. This is usually not a project that you can complete in one sitting.
You might also feel like you need an accountability partner or someone to help you tackle your paper organization project. Whether it be a friend or family member, or a Professional Organizer, don't hesitate to grab some extra hands.
Find a Professional Organizer near you at www.napo.net!
Tune in to part three of the 3-part blog series on Chaos to Order: Downsizing Your Paper Documents – Take Action and Tackle Your Paper Clutter!
Reference: This process of downsizing your paper documents was inspired by content in "the most important organizing book you'll ever read," Organizing from the Inside Out by Julie Morgenstern.
PIN IT to remember it!
Happy planning!
💙, 
Nicole 
By: Nicole Ramer, CPO®, SMM~C®
(Certified Professional Organizer® & Certified Senior Move Manager®)
© 2022 Organized Haven. All rights reserved.
Share this with a friend!