Share this with a friend!
Do papers inspire chaos in your home? Turn chaos to order by downsizing your paper documents and moving your mountains of paper to a clutter-free environment that includes a file cabinet, a data-management system and an in-box!
Freeing yourself from clutter and going from a space of chaos to one of order is a journey, to say the least! There comes a point of time in which you decide that you have collected too much stuff! Usually, this is when you feel ready to clean up your home and downsize the heaps of clothing and other household goods that are strewn throughout your bedrooms, living room, bathrooms, kitchen, attic and home office.
One of the most universal forms of clutter found all over the home is paper! The route over the mountains of paper clutter is fairly straightforward, however, this journey takes more patience, endurance and courage than any other category of downsizing. 
CHAOS TO ORDER: DOWNSIZING YOUR PAPER DOCUMENTS
I love to share knowledge and resources for downsizing any part of our homes! The challenges we face after decades of collecting things are abundant. Paper is a category of mess that frankly, we all struggle to keep at bay, but with all the incoming mail and documents of importance we collect in our lifetimes it is no wonder paper clutter is so common. If you missed my hour-long live webinar on the topic, you can watch it here:
Or, read this first part of a 3-part blog series on Chaos to Order: Downsizing Your Paper Documents: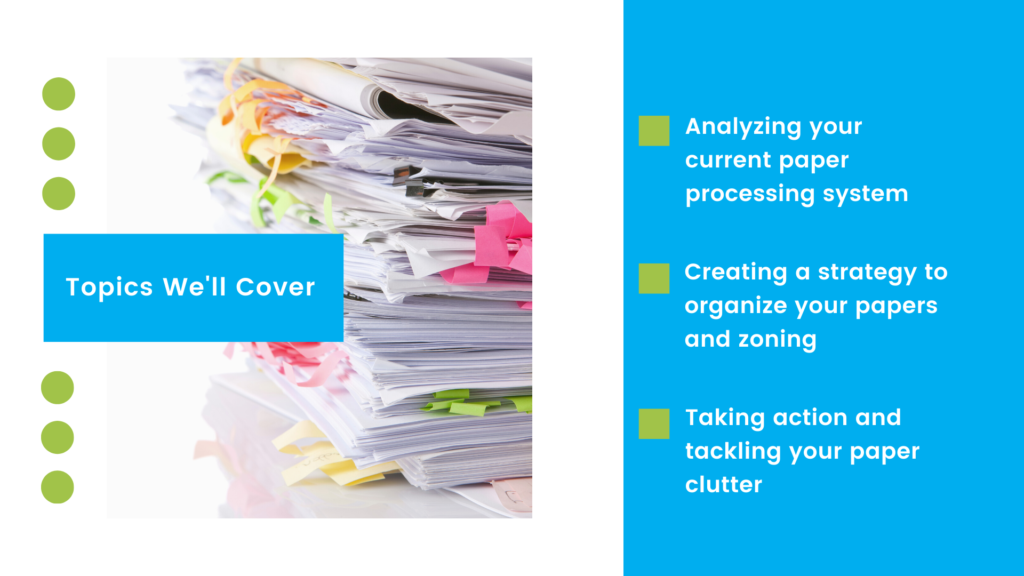 ANALYZE YOUR CURRENT PAPER PROCESSING SYSTEM
Setting up a working paper processing system requires that you first analyze your current paper processing system.
I can hear you now – "Nicole, WHAT paper processing system?!"
You may not think you have a system, but you do. Whether it works or not is the question. Here are the steps to analyze your system with some real-life examples:
What's working with your paper processing system?
"My catalogs all live on this bookshelf in my home office. I toss out the old one as soon as the new one comes in. It's nice to know I can get my hands on the most up-to-date issue in a second."

"I file important mail into my to-do inbox, to-pay inbox, or into its easily retrievable file in the file cabinet right away after pulling the mail from the mailbox. It takes no more than 5 minutes of my time and the mail never piles up!"

"In lieu of keeping a ton of cookbooks, I look up and store recipes online. My cookbooks used to take up an entire kitchen cabinet that I now use for the things I actually use."
What's not working and is causing paper clutter in your home?
"I am constantly losing things in my home office. Usually, it is a bill that ends up being late or a document I need quickly. My papers are cluttered into piles and I never have enough time to organize them."

"My kitchen table is often cluttered with mail and other papers that my family brings inside the house daily. Half of it is junk and the other half needs immediate attention that it never gets. I'm on my own in my household when it comes to thinking things need to change!"

"My home office has become difficult to get to over the years. I have to go upstairs to get there and it is excessively cluttered. I keep the daily mail and incoming paperwork by my chair in the living room which is also consistently cluttered.
What items are most essential to you and those who use your system?
David and Shirley needed an effective space in their home that their entire family could use for managing household finances and homeschooling their children. This space needed to have workstations for varying tasks and people.

Mary needed a home office space that had a locking door, good lighting, and everything in its place for quick retrieval during pop-up Zoom meetings and conference calls. She had a home-based business and was the only one who used the space, but often faced interruptions from her kids.

Sarah was a retired CPA who worked outside of her home most of her career. She had 10 4-drawer file cabinets full of her clients' tax documents. It was time to downsize and move to a senior living community and she hasn't accessed these documents in decades.
WHY do you want to get organized?
"We'll be able to use the living room again because my work area will be separated from it."

"Uninterrupted peace and quiet during work hours."

"I'll have more room to work and get more done."

"Better access to project notes, files, and idea starters so "I can grow my business as I want to."

"I won't be anxious all the time that I am forgetting something."

"Bills will be paid on time. I'll stop wasting money on late fees and finance charges."

"I'll have reduced tension caused by all the paper cluttering everything."

"I'll save time and eliminate stress searching for misplaced papers and documents."
What's causing the problems that lead to paper disorganization and other clutter?
They say "knowing is half the battle." In the case of disorganization and clutter, knowing what is causing the problem is the forgotten part of the battle. We focus so much time on stressing over our homes and cleaning up messes. We spend too little time on battling the cause of the problem.
Here are the typical causes professional organizers see when working with clients to organize their homes, offices and paper.
Many items have no home – one person out of several in a household is trying to keep after all the piles the entire family creates daily.

Undefined goals and priorities – there aren't specific purposes for each space in the home or defined goals and daily actions to keep the spaces organized.

Insufficient or inconvenient storage – access to frequently used items are far from reach at a moment's notice, which also makes things too time consuming to put away.

Un-inspirational space – whether it be rooms have poor lighting, not enough air-circulation, are unpleasing to the eye or poorly laid out, a space like this is un-inspirational for success and accomplishment.

Complex, confusing system – a complex system will be a short-lived one as if it is too difficult, we won't do it.

Out of sight, out of mind – people who need things in sight to remain top of mind tend to have cluttered desks, offices and homes.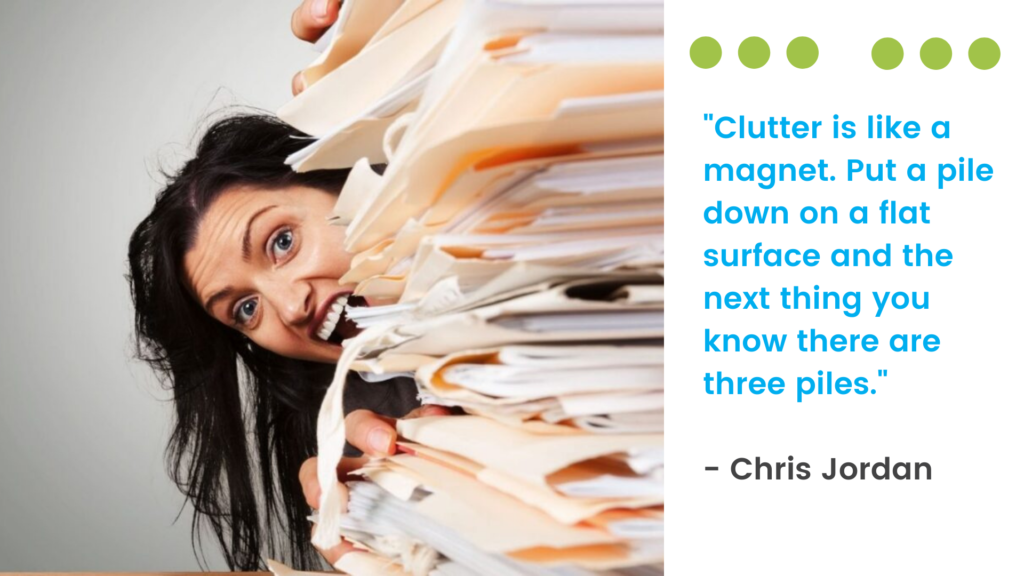 "Clutter is like a magnet. Put a pile down on a flat surface and the next thing you know there are three piles." ~Chris Jordan
Tune in for part two of the 3-part blog series on Chaos to Order: Downsizing Your Paper Documents – Creating a Strategy to Organize Your Papers.
If you or someone you know is struggling with paper disorganization and need professional help so you can stop spinning your wheels, find a Professional Organizer near you at www.napo.net.
Reference: This process of downsizing your paper documents was inspired by content in "the most important organizing book you'll ever read," Organizing from the Inside Out by Julie Morgenstern.
PIN IT to remember it! 
Happy downsizing!
💙, 
Nicole 
By: Nicole Ramer, CPO®, SMM~C®
(Certified Professional Organizer® & Certified Senior Move Manager®)
© 2022 Organized Haven. All rights reserved.
Share this with a friend!